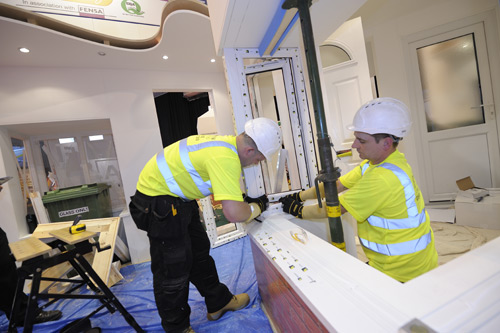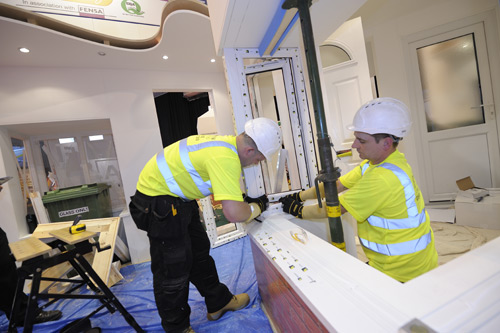 The search is on to find the FIT Show Master Fitter for 2016.
Organised in association with FENSA, with live finals taking place at The FIT Show on the 12th and 13th April and £10,000 in prize money for the winners and runners up, the excitement is building once again.
The Finals Pavilion, in which finalists will compete against each other under the close gaze of GQA's expert assessors, will be located in the main entrance to The FIT Show adjacent to the main registration areas, so bigger crowds than ever are guaranteed, adding to the pressure for competitors. A total of just six finalists will compete by replacing a window, installing a residential door and for the first time, each will be expected to install a solid roof with all products combining to form a porch configuration. A tricky residential fault challenge will also be used to separate the winner from the runners up. The replacement windows are provided by sponsors Liniar, residential doors supplied by Truedor and Supalite are supplying the solid roofs.
GQA's Mick Clayton, whose team will for the third time assess entrants and choose the winner, says the standards will be tougher than ever in the next few months: "The Master Fitter Challenge is a lot of fun but has the serious purpose of identifying and rewarding the skills of installers at the top of their game. The £5,000 first prize is fantastic of course but our experience is that most competitors are driven by pride. Our assessors report that the skill levels in the marketplace are higher than ever and we believe that will show in the competition."
The entry form is live on The FIT Show website at www.fitshow.co.uk/master-fitter-challenge/application-form.
The winners and runners up will be announced at the FIT Show Gala Dinner, already sold out for 2016 with a record 900 guests attending. Finalists can look forward to a tense and exciting time with trophies, total prize money of £10,000 and 'unlimited kudos' being handed out during the evening.
The Fabricator Installer Trade (FIT) Show takes place at The International Centre Telford on the 12th, 13th and 14th April 2016.