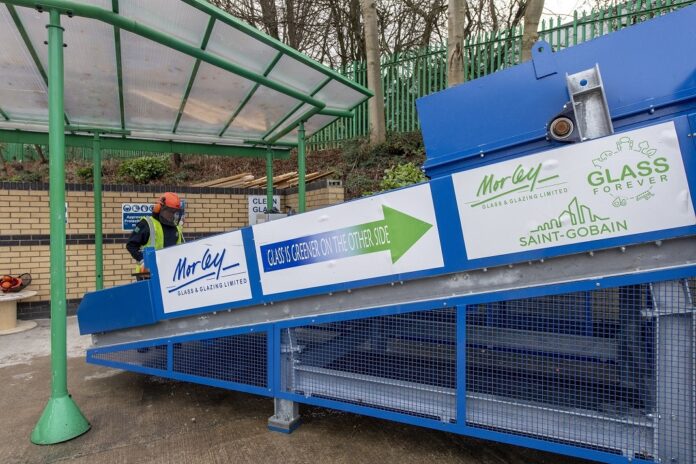 Judges have shortlisted Morley Glass for the 'Best Installer Support Programme or Service Initiative' award in the 2023 Glass and Glazing Products (GGP) Installer Awards. The winner of the award is set to be announced on 16 March 2023 at the Midland Hotel in Manchester. Read about other shortlisted businesses for GGP's Installer Awards 2023 here.
Morley Glass, which manufactures Uni-Blinds integral blinds, has been shortlisted for the award because of the free glass recycling service it offers to installers and fabricators. The service aims to help save money on waste disposal costs while at the same time raising money to improve the environment.
Post-consumer glass that has been removed by installers as part of window replacement work is collected at Morley Glass and crushed at its in-house recycling plant before being sent to Saint-Gobain Glass for reuse in manufacturing new glass. The service is free to installers and fabricators because the glass cullet produced through the crushing process is a valuable raw material in its own right.
All the money raised through the production of cullet is placed into a fund called GreenVision which is used to finance micro initiatives and individuals whose work is expected to improve the local community, environmentally or socially. People can apply to the GreenVision fund for grants of £500. In addition to this, Morley Glass delivery vans are delivering Uni-Blinds integral blind units to customers across the UK every working day, so they collect waste glass from installers rather than returning to the Leeds HQ empty, business representatives explained.
Ian Short, managing director of Morley Glass, said: "We're thrilled to be on the shortlist for a GGP Installer Award and look forward to the awards ceremony in March. From something that started out as a relatively simple idea to help our business save on waste disposal costs, our glass recycling initiative has grown to become a really popular service that our customers value and communities benefit from.
"We know from what installers are telling us that using our service rather than throwing glass into the general waste skip can save thousands of pounds a year. And thanks to the commitment and shared vision of Saint-Gobain Glass, we are able to support those dedicated to improving their local community too through GreenVision, as well as saving energy and finite resources."
Since Morley Glass installed its recycling plant in 2020, the company has generated over 1,000 tonnes of cullet, according to representatives of the business. This has reduced the amount of sand needed for glass manufacture by almost 1,000,000kg and cut CO2 emissions by over 340,000kg, business representatives have said.