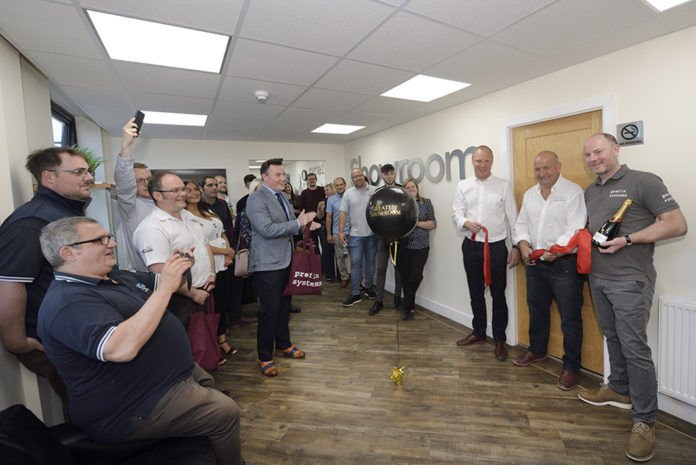 Prefix Systems has opened a new, flagship showroom at its premises in Blackburn.
After several months in construction, the new showroom has been developed to showcase the entire Prefix product range that includes glass roofs, solid roofs, rooflights, Verandah and a complete range of aluminium windows and doors under the new OPAL brand umbrella.
New products were also unveiled, including Warmwall and Warmglass. Warmwall is a patented modular building system made from recycled cold formed steel, magnesium oxide board and lightweight structural polyurethane thermal filling, that is designed to allow ultra fast construction of glazed extensions. Warmglass is a heated IGU system developed by glass processing specialist TuffX, that can be fitted into rooflights and bi-fold doors and offers a highly innovative alternative to traditional home heating appliances.
Prefix says that customers wishing to visit the showroom with their own prospects, can now do so in a new premium sales environment, as an extension or in support of their own showroom. As a trade only supply, Prefix customers can use the facilities without fear of conflict and with or without the support of Prefix staff.
Chris Cooke, director of Prefix Systems, commented: "It was a fantastic day for us with both the trade media and our valued customers in attendance with strong numbers. We've now presented our first flagship showroom to the industry and will look to follow this up with others at all four regional branches."
The showroom is now open for customers to visit and also to bring their respective prospects to look at the products and systems available. To arrange this, please email showroom@prefixsystems.co.uk