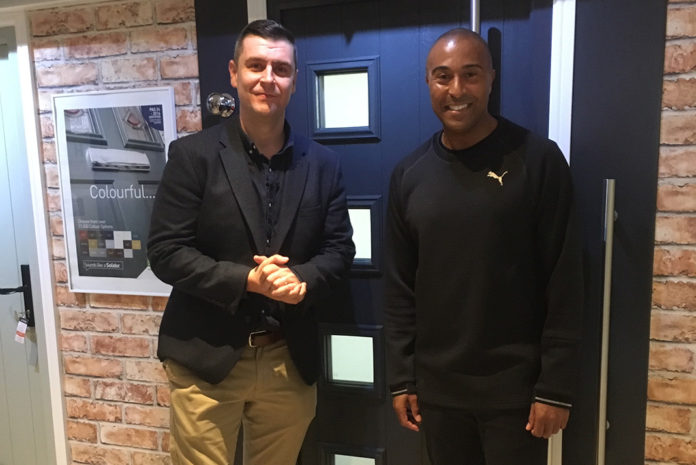 Colin Jackson CBE has opened the newly refurbished showroom for Cardiff-based Heath Windows, which includes an expanded display of Solidor composite doors.
Colin Jackson is no stranger to Heath Windows, having had a Solidor in each of his last two houses, and has also persuaded his sister to join the list of celebrity endorsements for the composite door brand. When he was asked if he could open the event, Colin was reportedly 'only too pleased' to support his local installation company.
The showroom refurbishment included a new display board for all the door hardware, which is said to have already helped make the sale of a Solidor easier in combination with the online door designer. Some of the existing handles and knockers have also been changed, to further inspire consumers.
Miall Hardwick, managing director of Heath Windows, commented: "The original showroom was just over two years old, but we felt that we could improve the consumer experience. As an existing customer, Colin was eager to help us on our open day and we've even got videos from the day on our Facebook page."
Gareth Busson, head of sales and marketing at Solidor Group, concluded: "A celebrity endorsement and showroom opening always work well and Colin Jackson is a household name and Olympian. Heath Windows are a fantastic customer and it's particularly pleasing that they are continuing to invest in their retail environment for our products."