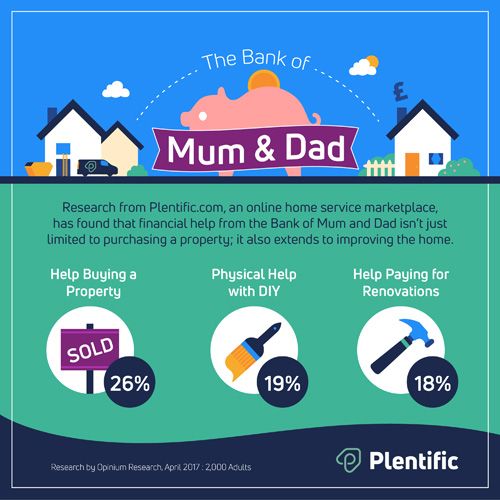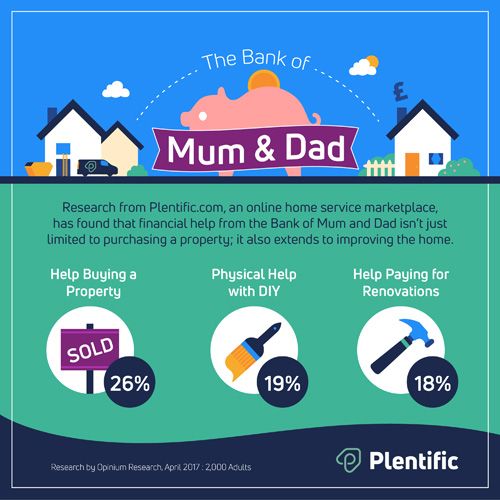 The latest research from Plentific.com, which describes itself as 'an online home service marketplace', has found that financial help from the 'Bank of Mum and Dad' isn't just limited to purchasing a property; it also extends to improving the home. A fifth of homeowners (18%) say they rely on the Bank of Mum and Dad to help finance home improvements, while 19% admit that their parents physically help them to carry out DIY.
In the past, owning your own home as a young adult wasn't the struggle it appears to be nowadays. Many older parents will remember a time when they could buy a family home for a realistic sum that was relative to local salaries, at least in comparison to today's standards. Plentific's findings show that 26% of homebuyers across the UK now receive financial aid from the Bank of Mum and Dad when purchasing a property. This number increases dramatically amongst younger homeowners, with 58% of respondents under 34 admitting to receiving financial help from their parents.
Unsurprisingly, London ranked top of the table (59%) when it comes to receiving financial help from the Bank of Mum and Dad when buying a property. With prices increasing in the capital, it may seem sensible to buy a more affordable property that needs fixing up. However, 48% of London homeowners admit they have also received financial aid from their parents to pay for a renovation project or home improvements.
Belfast came in second highest for homeowners receiving financial help from parents when buying a property at 30%, with Brighton and Glasgow occupying the bottom spot with just 12%. Homebuyers in Birmingham (16%), Southampton (18%) and Nottingham (19%) were the next lowest in the rankings, while those in Manchester (22%), Leeds (23%) and Bristol (25%) sat at the higher end of the table.
When looking at parents that provide financial support for home improvements, London (48%), Liverpool (31%) and Brighton (17%) topped the table. The top locations for homeowners who received physical help with DIY from their parents were London (29%), Bristol (26%) and Sheffield (22%).
Stephen Jury, Spokesperson for Plentific, said "Our statistics really highlight the struggles young people face when buying or renovating a property. Whilst buying a cheaper property that needs work may seem like a good option, the number of young people receiving financial and physical help from their parents with renovations projects is quite alarming."