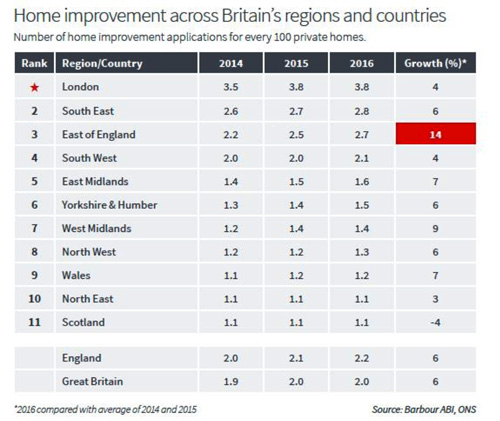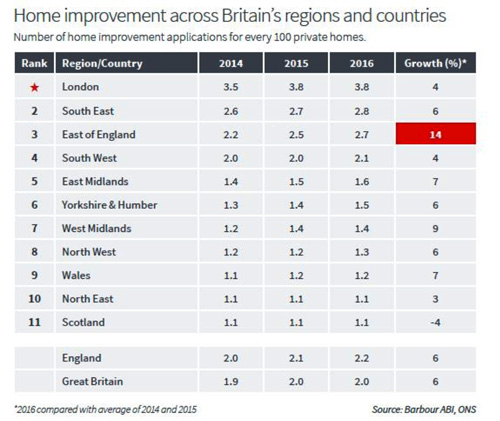 Home improvement work is increasing in 2016, as planning applications saw an upsurge in every region and country in Great Britain, except for Scotland.
The 'Home Improvers of Great Britain 2017' report, compiled by construction industry analyst, Barbour ABI, in collaboration with the Federation of Master Builders, shows that London led all regions with 3.8 home improvement applications for every one-hundred private homes last year, with the East of England seeing the biggest growth in applications with a 14% increase. At the other end of the spectrum, the North East and Scotland made up the bottom of the table, with only 1.1 applications for every one hundred households (see figure 1.1).
There was no change at the top from last year for the best performing district, as Kensington & Chelsea continued its dominance with 6.8 applications for every one-hundred private households in 2016, albeit a decrease of 8% on its figure from 2015. However, nowhere exemplified more in 2016 the 'improve not move' stance than Cambridge. After a rapid surge in prices, sales in the city have fallen back sharply while home improvement has rocketed. Outside of Westminster and Kensington & Chelsea, Cambridge has the highest ratio of home improvement planning applications to home sales of any borough, whilst only squeezing into the top 70 for home improvement figures just two years ago.
Overall, districts with the most home improvement applications was dominated by Southern England, with 18 of the top 25. Whereas 21 of the bottom 25 districts for home improvement were located north of the Midlands. A lack of home improvement outside of Southern England can be characterised by the first northern district, Harrogate, only placing 84th in the Barbour ABI league table.
Brian Berry, Chief Executive of the Federation of Master Builders (FMB), commented: "Demand for home improvement work is particularly vulnerable to dips in consumer confidence but at present, there's no sign of a negative 'Brexit effect'. Indeed, the results of this year's Home Improvers Report show that there was a 6% rise in home improvement work that requires planning permission in 2016 compared to 2015 in Great Britain and these results chime with the FMB's own research. Despite gloomy predictions from many economists in the run up to the EU referendum last summer, construction SME workloads have not only held up, they are in rude health. Even as we approached Article 50 being served at the end of last month, the results of the FMB's State of Trade Survey for Q1 2017 show that construction workloads continued to grow and 50% of firms expect this trend to continue into the second quarter of this year."
Michael Dall, lead economist at Barbour ABI, said: "2016 saw continued growth of home improvement in areas expected, such as around the capital and other southern English regions. However it is encouraging to see considerable growth in the East of England with many of its boroughs making their way up the table."
"Looking forward, much will depend on the growth in the economy, as the link between it and home improvement is very evident. In addition, the shortage of housing across Great Britain generally is set to continue, which will undoubtedly help fuel home improvement activity as home owners look to 'improve not move'."