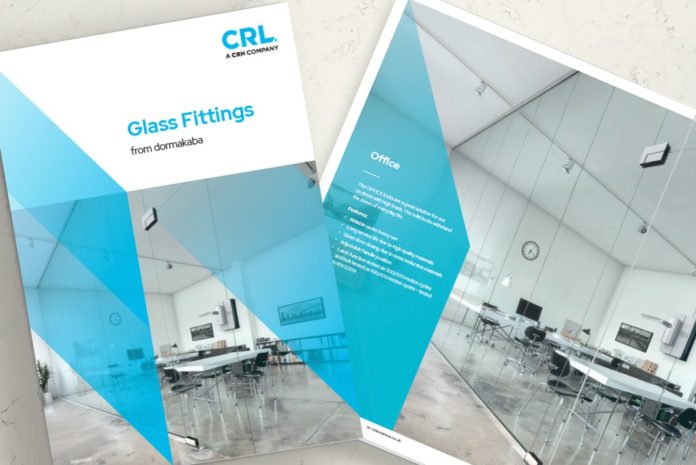 Customers in the UK and Ireland can now access the Dormakaba product range thanks to an extended supply partnership with CR Laurence. The European arm of the global glass processing business, CR Laurence (CRL), has been a sales partner of the German door hardware firm, Dormakaba Deutschland, since July 2020, but the arrangement has now been extended to the UK and Ireland.
As part of the partnership, CRL pledges to hold stock of the most popular Dormakaba glass product range and to deliver the highest level of technical guidance and support to customers. Simon Boocock, CRL Europe's managing director, said: "We are delighted to be able to form a close working partnership with Dormakaba, one of the world's leading door hardware brands. CRL continues with its commitment to bring customers breadth of choice, high quality products with the highest levels of technical advice and service."
CRL's existing range will be complemented by Dormakaba's manual sliding door systems, its manual revolving door systems, its fittings for all-glass systems, its clamping profiles, patch-fittings, door rail systems and floor spring closers. It is hoped that more than 220 products will be available directly from stock, at attractive prices and with low shipping costs.
"With access to countless glass processing customers, CRL is the perfect sales partner for Dormakaba's glass systems," explained Andreas Tiedtke, whose full title at Dormakaba is global business owner interior glass systems vice president AS DACH. Andreas added: "The national network, competent employees and experience in fast delivery have convinced us to enter into the partnership with CRL."
A new CRL Dormakaba brochure featuring the bestselling products from the range is now available. For more information, call CRL on 01706 863 600, email crl@crlaurence.co.uk or visit www.crlaurence.co.uk.