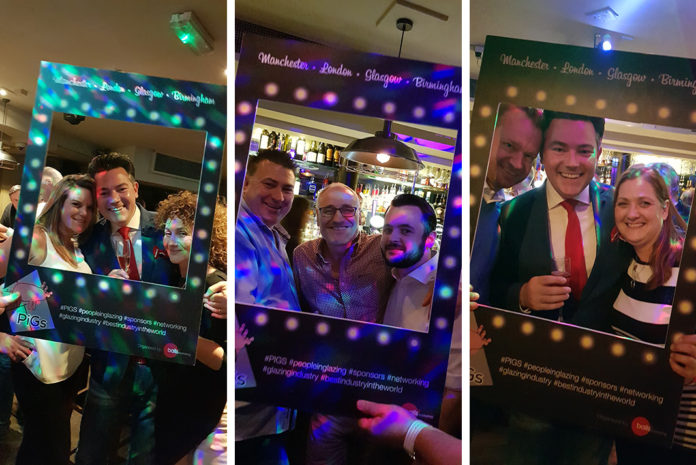 The People in Glazing (PiGs) networking event arrived in London in June, with organisers reporting many new faces among plenty of familiar ones at a packed Warwick bar.
"It was lovely to see lots of first time 'PiGgies' join us in London," said Sarah Ball from Balls2 Marketing, the organiser of the event. "PiGs is very much inclusive and welcoming to everyone in the glazing community, and the newcomers looked to be having a great time along with our regulars.
"We certainly kept the bar staff busy throughout the evening and I'm certain those first-timers will be back for future events."
Sponsorship is vital for the success of PiGs, with every penny put behind the bar. A huge thanks to: All Glass Facades, Alufold Direct, APS Aluminium & Plastic Systems, Avantis International, Bison, BetweenGlassBlinds, Build Show, Carl F Groupco, Centor, CURA Glass, DGCOS, Double Glazing Blogger, Edgetech, Emplas, ERA Security, Extrudaseal, Everglade, Fenster, Georgian Bar Company, Glass Times, Glastrotech, Glass and Glazing Products, Glazpart, Improveasy, Independent Network, Kömmerling, Korniche, Kubu, Masterframe, Regalead, Selecta Systems, Senior Architectural Systems, Supalite, Stuga, Unique Window Systems, VEKA, Vertik-al, Vision Magazine, Thermoseal Group, Total Hardware, Whizzle, Window News, Window Ware, and Yes Glazing.
There are two more regular PiGs events happening in 2019. The next one is at St Judes in Glasgow on Thursday 5 September and the year finishes off at The Pitcher & Piano in Birmingham on Thursday 7 November. Also, due to popular demand, PiGs will be making its second 'stateside' appearance, in tandem with Glass Build America in Atlanta, on Wednesday 18 September.
If you would like to know more about attending an event or becoming a sponsor, contact Sarah by email on: sarah@balls2marketing.com or call: 07540 049655.