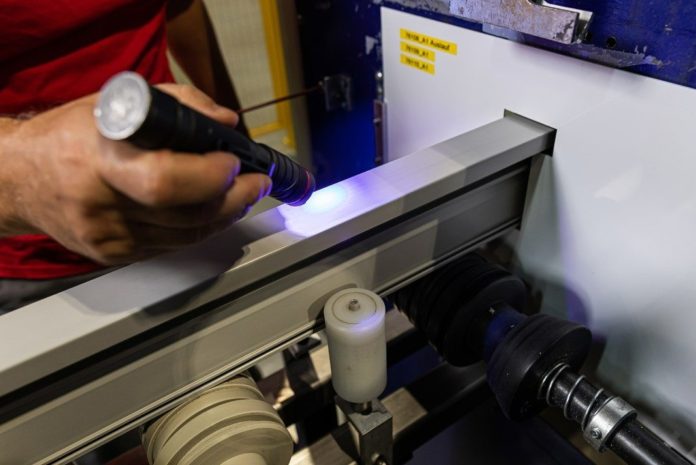 Profine Group's Kömmerling brand, together with its partner company, Rolladen Müllers GmbH KG, has completed a commercial project with ReFrame windows, made of 100% recycled PVC-U. The project is part of a pilot underpinned by sustainability, innovation and quality. Look forward to the July edition of GGP magazine for a more detailed case study about this project.
ReFrame windows are made entirely of recycled PVC-U and at the same time have a luxurious, UV-resistant surface, the company claims. Highly technical, the product has a high thermal insulation value too. The windows are part of a closed material cycle, enabling complete conservation of natural resources while having the same functional properties as conventional PVC-U windows.
The project was for a children's day care facility in the WohnBau Mönchengladbach area of Germany. As part of the project, 57 ReFrame windows and doors from Kömmerling's 76 double seal system were installed, in stone grey on the outside and white on the inside. The products were manufactured by partner company, Müllers, from Mönchengladbach, which also installed them at the day care centre.
Markus Müllers, the manufacturer's managing director, described the project as groundbreaking for the German market: "We were immediately enthusiastic about the ReFrame technology and were very pleased to be able to convince the client and the planners of this solution, because the future of building clearly lies in energy efficiency and the conservation of natural resources with high product quality at the same time. Here, we pursue the same goals as our partner, Kömmerling , namely, to create a perfect cycle."
ReFrame windows are finished with Kömmerling's surface technology, ProCoverTec, which reportedly gives them a luxurious and matte, high-quality appearance. In addition, ProCoverTec technology improves the technical properties of the windows, such as UV resistance and IR reflection.
Passive house-compatible windows can be made out of ReFrame profiles, further helping reduce CO2 emissions. ReFrame windows also have a theoretical service life of around 50 years, and can be recycled several times.
Dr Peter Mrosik, owner and CEO of Profine Group, summed up the strategic aspect of the profiles made of 100% recycled material: "Sustainability is a cornerstone of our corporate policy, from the use of lead-free stabilisers to comprehensive recycling solutions. That is why we see our ReFrame profiles as a logical component with regard to the goal of a complete circular economy and sustainable solutions for generations."