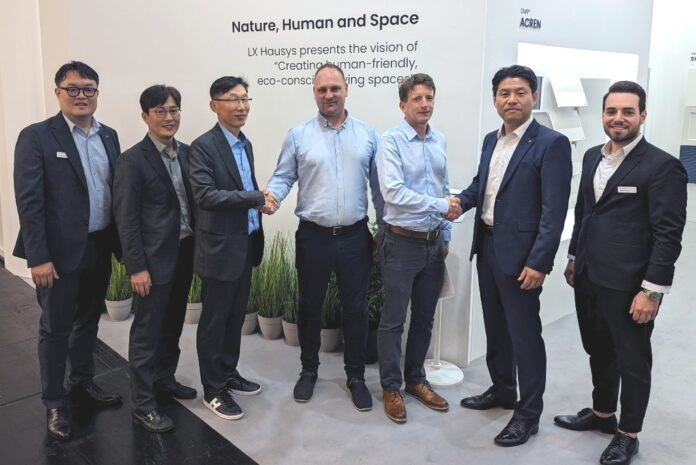 Leaders of Plasfoils, a distributor of foil materials, have signed an agreement with representatives of the South Korean manufacturer LX Hausys, to enable distribution of the business' line of exterior foil products in the UK. The agreement was officially announced at the Interzum show in Cologne, Germany, on 10 May.
"We are thrilled to partner with LX Hausys," said Chris Green, Plasfoils' business manager. "The partnership brings together two industry leaders with a shared commitment to providing innovative solutions for the building and construction industry. Their products are well-known in the market for their durability, performance and aesthetic appeal, so we are confident that the addition of these products to our portfolio will be well received by our customers."
Patrick Ottens, director of sales and supply chain at LX Hausys, added: "We are excited to partner with Plasfoils. They have an exceptional reputation in the marketplace and we believe that our partnership will bring significant benefits to both companies."
A team of people from Plasfoils, which is part of the Plastribution group of companies, is to exhibit the firm's products on stand P26 of the Fit Show this year, which is to take place at the NEC Birmingham from 23 to 25 May 2023. Read more about the show online at fitshow.co.uk.
LX Hausys' exterior foil products are marketed as being 'designed to meet the unique requirements of building exteriors, offering a diverse range of finishes and textures that accurately replicates natural materials such as wood, stone and metal'. The products are also designed to provide superior protection against harsh weather conditions, UV radiation and other environmental factors, according to the business' representatives.