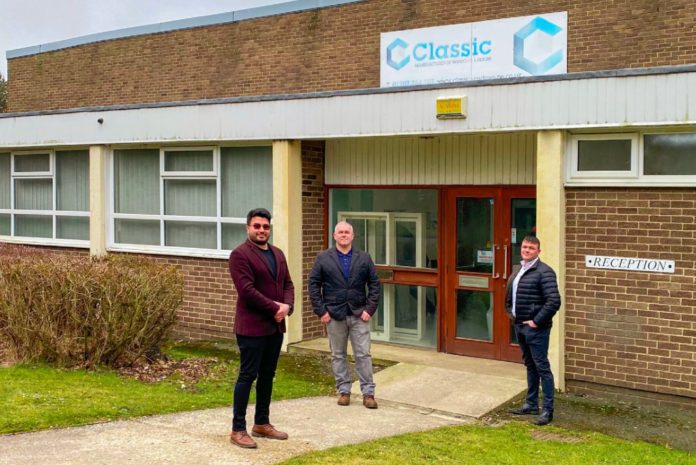 Premier Roof Systems (PRS), based in Jarrow, South Tyneside, has made its first acquisition, taking over its longstanding customer, Classic Windows, which has a facility in Stanley, County Durham. The fenestration firm (PRS) marks its 10th anniversary this year.
PRS, which was founded in 2011 by manufacturing director Jamie Blackwood and sales director Chris Mullen, manufactures and supplies roofs and windows. The firm will continue to employ Classic Windows' 10-strong team. Its co-founder, Andrew Peart, will remain in a consultancy role for 12 months, to support the integration of the two businesses.
Jamie said: "As a manufacturer of windows, doors and conservatories, Classic Windows is a company that we have dealt with from our very first year in business. We always knew they had a great reputation for supplying high quality products, as well as offering a great service to their customers." Classic Windows had been established for almost 20 years before PRS began to trade, Jamie highlighted, emphasising the company's development and potential for growth.
The acquisition is the result of a decade of success for PRS, they say, reporting an increase in turnover of 36% and earnings by 101%. Pouya Bostani, PRS' managing director, said: "The two firms have a lot of crossover, which is why they were one of the first names that came to mind as we continue to scale PRS. Such common markets will provide the opportunities for increased production volumes, efficient operations and a broader product range."
The acquisition is the first step in PRS' ambitious growth plans, which are focused around becoming the market leader for offering fenestration products in the UK. The company plans further acquisitions in order to create a network of trade supply branches and a logistics fleet.
Chris added: "The idea of a one-stop shop appeals to tradespeople, and we will have the ability to service customers more competitively now that we have control over UPVC windows and doors. The acquisition will help us grow by increasing our customer database, as we will be cross selling between companies, as well as opening us up to a wider target audience. In five years' time, I'd like to see us with a network of hubs across the UK manufacturing and supplying uPVC and aluminium windows and doors, conservatories, roof lanterns and flatroof lights."
PRS' plans have been supported by local businessman Gary Lumby, who was appointed as a non-executive director in 2019. He said: "To build on the team's already impressive growth, over the next few years we will be looking to acquire further businesses that complement the group already, such as trade counters, builders' merchants, aluminium system manufacturers and architects. We also have some exciting recruitment plans and are planning to take on a number of new team members over the next year."
Legal advice to PRS was provided by Muckle LLP's corporate team, including Adam Rayner and Hayden Richards, with corporate finance advice from Carl Swansbury and Connor McBride at Ryecroft Glenton Corporate Finance. Accounting advice was provided by Dan Cooper and Rachael Best at Ryecroft Glenton (RG), with financial and tax due diligence carried out by RG's Grahame Maughan, Andrew Cameron and Jonny Delaney. The shareholders of Classic Windows were advised by Barry Gill of TIG Corporate Finance alongside Tom Pollard and Jamie Guy of Ward Hadaway.
For more information about Premier Roof Systems and Classic Windows, or their range of products, visit www.premierroofsystems.co.uk and www.classicwindows-ne.co.uk.