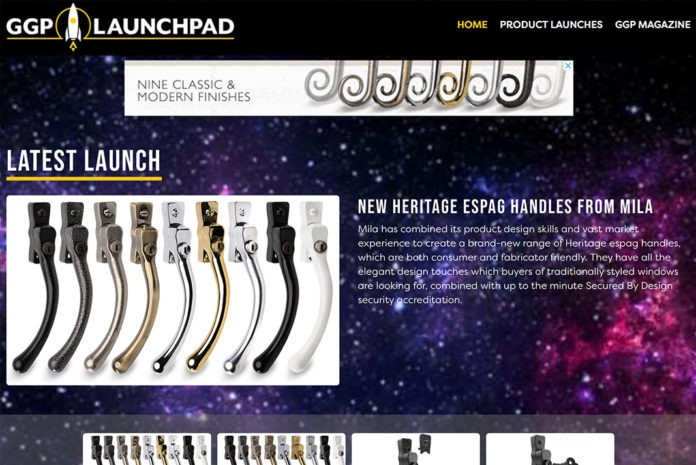 GGP Magazine has unveiled a new resource designed to promote new products and innovations in the glazing industry.
Featuring a dedicated website, Launchpad allows companies to spread the word about their latest product lines by harnessing the combined power of GGP Magazine's digital and print platforms, including dedicated e-shot newsletters, social media, print advertising and editorial.
With a combined monthly circulation of 10,500 for GGP Magazine, a weekly digital audience of 13,000 for Bullseye, over 6,000 followers on social media and a Solus e-shot list of 10,500, Launchpad has been designed to give companies maximum impact for new product launches.
To view the Launchpad web page, which this month is focusing on the new range of heritage espag handles from hardware specialist, Mila, please click here.
GGP Magazine editor, Luke Wood, commented: "It has been a very busy year for the glazing industry, but with live events cancelled, there have been limited opportunities to showcase new products and innovations.
"With Launchpad, window, door and conservatory companies have a new and exciting way of doing just that."
Companies looking to take advantage of Launchpad can do so with three different packages or 'orbits':
Orbit One:
Enjoy a social media lead-up package, before five days of digital coverage including the launch release (Monday), product gallery (Tuesday), video content (Wednesday), written Q&A (Thursday) and website takeover (Friday) and a page advert in the relevant GGP Monthly Magazine.
Orbit Two:
Take your message further by adding more print coverage including a double page advertorial spread and a full page article in GGP Magazine.
Orbit Three:
Travel through both these orbits, but also take up the option of an e-shot launch campaign and bespoke competition to provide GGP Magazine readers with samples of your latest product.
GGPs Reach
To get your new product off the ground email sat.dhillon@markallengroup.com.