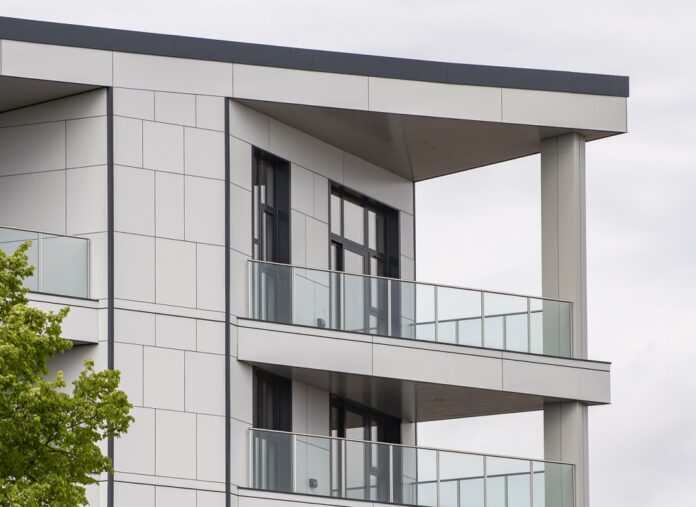 A high-spec', fire-rated glass balustrade solution has been installed at Quantock House, a residential development exclusively for people aged over 55. The development is one of the first UK projects to have an NHBC-accepted A2-s1 glass balustrade system installed on its balconies, thanks to a close working partnership between fire glass specialists Pyroguard and Architectural Metalwork Installations (AMI).
AMI was tasked with developing a fire-rated glass balustrade solution. Working closely with Pyroguard's technical team, this collaboration resulted in the development of AMI's Fire-Tek Balustrade system, featuring Pyroguard Balustrade fire safety glass. The system, fully backed by site specific structural calculations, is compliant with the latest building regulation requirements for residential buildings over 18m tall (11m in Scotland), the business says.
Designed specifically for balcony and balustrade applications, and suitable for installation on buildings over 18m high, Pyroguard Balustrade is a toughened fire safety glass manufactured to classification A2-s1. In addition to its fire reaction qualities, Pyroguard Balustrade also offers good light transmission and is certified to the 1B1 impact resistance rating (according to EN12600).
Andy Lake, Pyroguard's sales director for the UK and Republic of Ireland, said: "It's been great to work with AMI on the development of this balustrade system. We're exceptionally proud to be the only glass manufacturer in the UK offering such a product. Following the ban on the use of laminated glass on high-rise residential balconies and terraces back in December 2018, it's wonderful to now be able to re-establish glass as a design solution for such applications."