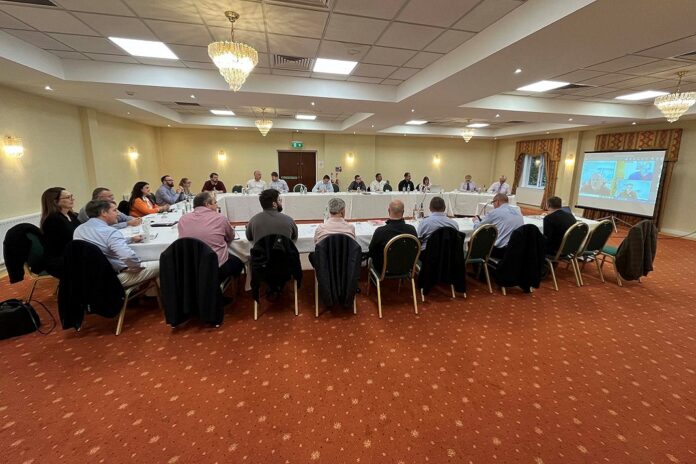 Qualicoat's chair reported a positive outlook at the organisation's autumn meeting last month, describing healthy business levels in spite of a gloomier wider economic climate. Qualicoat's autumn meeting took place on 20 October at the Arden Hotel, Solihull.
The meeting's attendees voted for Chris Mansfield, commercial director of Tomburn, to be Qualicoat's next vice-chair. Chris is set to take up the position next year.
Angus Mackie, chair of Qualicoat UK and Ireland said: "Despite the economic outlook, members reported that business remains healthy despite rising costs of materials and energy. Growth of the association also continues, with three new licenses granted in October. One further new member is expected to gain their license before the end of the year." A further three applicators are set to progress through inspections.
The independent test house IFO conduct initial inspections for Qualicoat. IFO's representatives review both plant and processes to ensure that an applicator member can operate within the Qualicoat specification. All licensed applicator members are inspected twice yearly by IFO, through an unannounced visit, to ensure that the business continues to conform to the up-to-date Qualicoat specification.
A further requirement is that all applicator members must send laboratory technicians on a technical training day once every two years. This year the training was held at pre-treatment system member Chemetall, in Milton Keynes, on 8 November.
Angus added: "One of the association's missions is to continually improve the quality of the final coatings. In mid-October, all the independent test houses that inspect members of the association across the globe met in Spain, to review feedback from inspections and put forward suggestions for further improvement in the specification."
He went on to explain that while the association's current practice is for test houses reps to award Qualicoat member businesses with a single paper license, in future, each coating line is to be issued a separate certificate. Should the applicator business carry additional qualifications, such as Seaside approval, these are also to be issued separately.
"For applicators who wish to supply pre-anodised and powder coated finishes, Qualicoat is now approving finishing between two plants in different locations, as long as the process completes within a 72-hour period," Angus continued. He also reminded attendees that chrome-based pretreatments are set to be banned when used as a powder coat pretreatment. The European ban is set to come into effect in September 2024, and Qualicoat's leaders predict that the UK will follow.