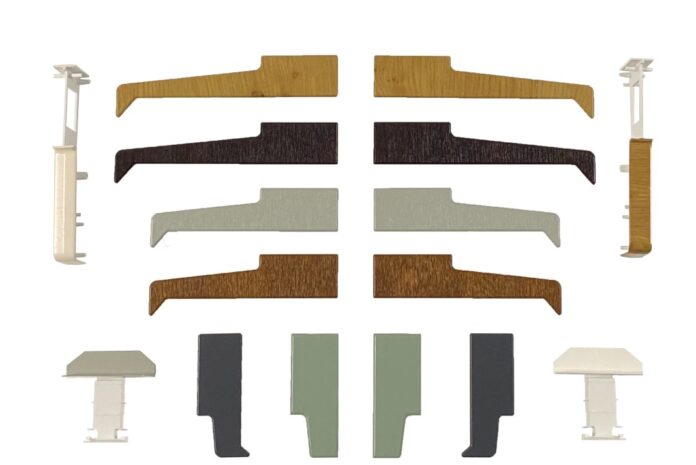 Leaders of the polymer manufacturer Rehau have partnered with a team from trade laminator Allied Profiles to offer foiled component mouldings that complement the firm's existing window ranges. The move is in response to a key trend in the fenestration industry: attention to detail, Rehau's representative explained, which has long been popular with end users that want to create a coordinated look across their window profiles.
The new laminated mouldings are compatible with the polymer supplier's Total70, Rio Flush Fit and Heritage systems. This range of vacuum-foiled finishes has been specified to match the current foils offered by the manufacturer. Each laminated moulding is formed to order, with a 15-day lead time, direct from the Allied Profiles foiling plant in Wiltshire.
"When supplying a window, it's often the smaller details such as end caps and sash horns that can be overlooked during the design process," said Paul O'Sullivan, director of Allied Profiles. "However, these can really help provide the seamless finish that customers are looking for. We've worked with Rehau to use our vacuum laminating services to ensure a complete look across all window elements, to help bring a design together.
"Traditionally, paint would be used to match these pieces to the rest of the window frame but duplicating a finish this way is difficult and can leave components subject to scratching or chipping. Our laminating technique, using Rehau's pre-existing foils, ensures a clean wood-grained match every time, with a durable, easy-to-clean, scratch-proof finish."
Russell Hand, Rehau's head of product and technical, added: "With the updates to building regulations over the last few years, specifiers are understandably very focused on the technical elements of a product. However the complete design of the window has proven to be a key element to consider in response to customer demand for aesthetics.
"Partnering with Allied Profiles has allowed us to provide specifiers with a streamlined way to acquire a matching finish across all components, and offer their customers the full window package. This new product offering is a step forward in demonstrating our ability to consider all aspects of the window from a technical and design standpoint." To find out more, and order laminated mouldings, click here.