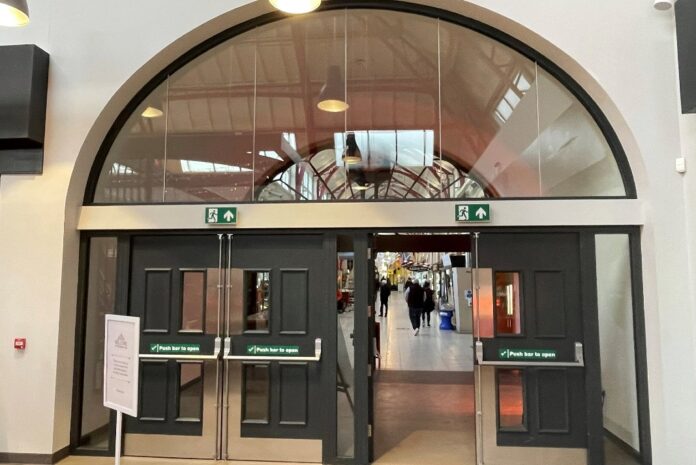 A team from Promat UK designed a Systemglas Ligna fire-resistant glazing system for the refurbishment of a Victorian market in Inverness. The glazing features in the internal doors and arched centrepiece of one of the market's entrances, and was installed by a team from Rated Solutions.
The £1.7m refurbishment project by Highland Council has involved an internal strip out of the market hall, which first opened its doors in 1870, to create new shop units and upgraded customer facilities as well as a contemporary food hall. The design by Threesixty Architecture included a new arched entrance, consistent with an existing original feature, to maximise fire safety.
The entrance required two double-timber doorsets, featuring side lights to the left and right with a narrow fixed light between them. Abutt-jointed arched glass screen was created above. The specification demanded a fire rating of EI60 (integrity and insulation) with a design that was sympathetic to the historic building.
The Promat team proposed and designed a Systemglas Ligna timber frame glazing system to meet the architect's brief. Each of the 2036mm wide doorsets features two vision panels, metal plates for added durability at the bottom and opening edges, plus panic bars complete with vertical bolts.
The sidelights and overhead arched glass screen were created using timber frames in line with the specification of Systemglas Ligna, complete with fire-resistant glass supplied by Promat, along with the required seals and other components. The performance capabilities of this system are such that it allows for butt-jointing of individual glass panes to maximise light transmission without compromising fire performance.
Installation of the doors and glazing was completed by the Promat Systemglas-approved installer, Rated Solutions. Despite being based 650 miles away in Folkestone, Kent, the team took the time to visit the site on several occasions to ensure that the project would be successfully delivered in line with the schedule and to the high standards demanded by the client.
"We are delighted to have been involved by providing an important feature that had to balance fire protection with aesthetics," said Cath McLean, Promat UK's sales manager glass. "We originally started work on this project more than two years ago, working with the architect to develop a design using a timber frame for the new EI60-rated arched entrance. The end result is fantastic, thanks to the quality of installation by Rated Solutions." Read more about Promat's Systemglas range at promat.com.