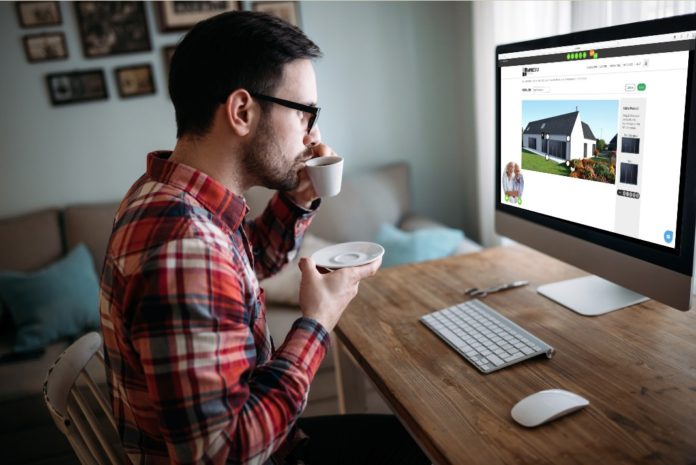 Installers have been reporting that remote selling is here to stay, according to feedback supplied to software provider, Tommy Trinder. "Many customers prefer a remote demo," said Mark Ramsay, managing director of Kent-based installer, Kestrel Home Improvements. "As Covid eases, we plan to continue with remote selling in the long term. It's gone so well."
Like many, Mark, who uses Tommy Trinder's Framepoint app, moved to selling using video conferencing platforms like Zoom, during the pandemic. He told Tommy Trinder's research team that selling remotely saved him time and money, but it also proved a real hit with homeowners: "During lockdown, Framepoint allowed us to embrace remote selling and keep building our pipeline. We used video conferencing and screen sharing to use the app with homeowners. Homeowners have reacted in a very positive way.
"When a potential customer makes an enquiry, we ask them to provide images of their home and we then 'make over' their property, live online. It never fails to impress. Remote selling has proved very successful, and the remote enquiries keep coming in."
For some installers, selling without home visits has become a lifestyle choice. Phil Barber of Watchet Glass, also a Framepoint subscriber, said: "Not everybody wants us to sit in their front room for an hour discussing windows and doors. To be able to do that in the comfort of our office and still be able to present the products nicely and pick out the handles and the hardware, it's very engaging."
As well as the obvious efficiency savings, Chris Brunsdon, founder and CEO of Tommy Trinder, argued that there are other drivers that indicate remote selling will be a long term industry norm: "People who have the knowledge and expertise to sell in the home are in short supply, as double-glazing salesmen get older and aren't replaced. Remote selling is in tune with the way customers want to shop. There is abundant resource available to train to do the job, typically ex-retail with modern customer service ethos, and let's be on honest, it's significantly cheaper.
"The pandemic will pass, and climate will reoccupy centre stage and dominate the decade. Selling remotely is carbon neutral. And driving, unnecessarily, to effect tasks that could be done just as well online, will fast become morally dubious in the public imagination. This could happen quickly: think plastic packaging, eating meat etc. Environmentally, we can only justify one visit pre-install, to check the sizes and sign off on the order."
Sales and activity rocketed after the first UK lockdown, said Chris. Faced with the prospect of no longer being able to conduct home visits, installers turned to Framepoint as their 'virtual showroom' – sharing screens, carrying out sales demos remotely, and taking orders without an initial home visit. Volumes of quotes and makeovers on Framepoint surged. In February 2019 less than £6m of quotes were completed on the system; now, more than £55m of work is being quoted via the platform each month.
"If you haven't tried selling without a home visit already, we'd invite you to give it a go," Chris concluded. "Share screens, free sketch your PVC-U, timber and aluminium products with your client in real time, and see them rendered in full photo-realistic glory. Touch, tap and share the results of colour changes, hardware choices, bar selections. Overlay your designs onto your client's home live and wait for the ooohhs and ahhhhs. When you're done, transfer beautiful quotes by email in a click. And, most importantly, of course, take the order."
Tommy Trinder offers a free guide to selling without home visits. Download a copy online, from www.tommytrinder.com/remote-selling.