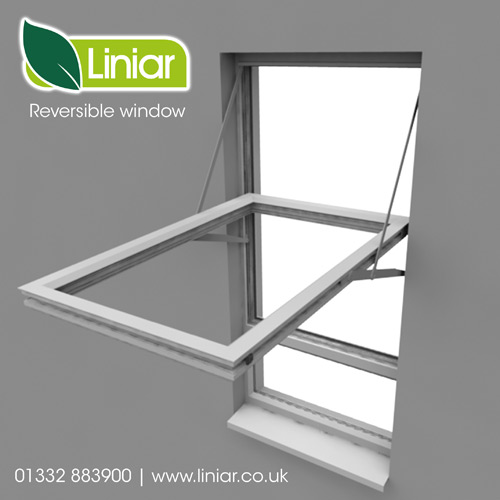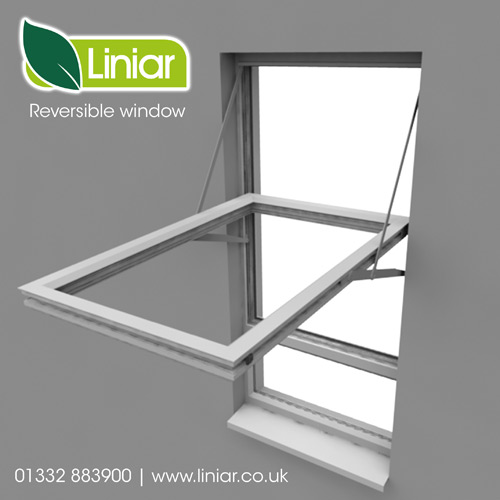 PVC-U systems house Liniar is set to extend its range with the introduction of a reversible window, which is said to offer a convenient, stylish and safe option for difficult-to-access locations.
Reportedly ideal for high-rise projects, the moving pane rotates through a full 180° cycle, allowing the external glass of a Liniar reversible window to be safely cleaned from the inside of the property. The rotating mechanism keeps the moving pane from intruding into the inside of the room – so no snagging on curtains or blinds.
Designed from scratch by the same team of industry experts that created the rest of the range, Liniar's brand new reversible window will be perfect for commercial applications – and with flat, chamfered lines, it offers a contemporary finish which is compatible with the full 70mm Liniar suite.
Chris Armes, Liniar's design and development manager, said: "We're delighted to add a fully reversible option to our already impressive range.
"Not only will this prove an ideal choice in multi-storey developments, or in locations that are hard to reach in order to keep windows clean, we've also developed this for markets outside of England where some building regulations differ."