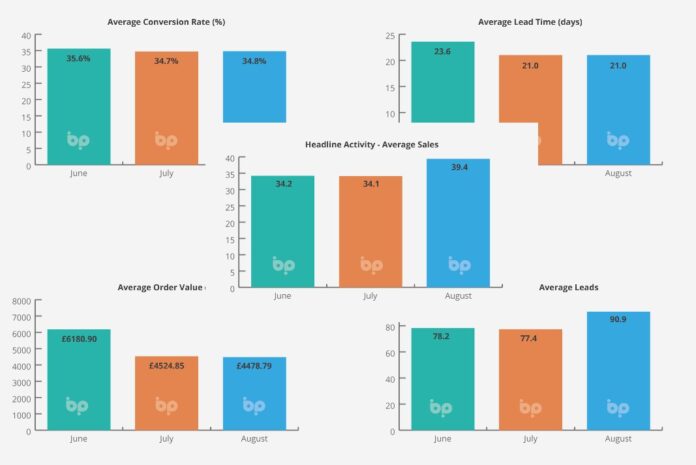 By Neil Cooper-Smith, senior analyst, Business Pilot
The Business Pilot Barometer offers monthly analysis of the key trends defining window and door retail. It draws on real industry data collated by Business Pilot, the cloud-based business management tool developed by installers, for installers.
There is little doubt that a slowdown has and is happening. Year-on-year sales figures for this August are down 7% on where they were last year. Leads are down 30%.
What we saw, however, last month was a reversal of the downward trend seen in July with sales up 16% and leads up 17%. This was also significantly up on June.
It's only the second time this year that we have seen a notable increase in sales and leads. The last time was in March, when average sales rose almost 15% and leads were also up 14%, reversing the falls recorded in February on January. We suggest that this is attributable, in part at least, to the energy crisis.
The spike seen in leads and sales in March preceded months of media exposure on the raising of the energy price cap in April from £1,277 to £1,971. With homeowners already feeling the pinch of the first increase, following weeks of expectation, the regulator confirmed at the end of August that the cap will go up again on 1 October, pushing average gas and electricity bills to £3,549 a year – an 80% increase on where it was in October 2021. A headline analysis of Google Trends also shows that searches for energy efficient home improvements and windows and doors jumped in the weeks preceding both announcements, suggesting a correlation between the increasing cost of energy and increased demand for windows and doors.
The lender Nationwide has calculated that homes in the UK most commonly have an Energy Performance Certificate (EPC) rating of D. This, its representative says, means that the average energy cost to heat and run those houses will increase by £1,250 a year from October, inclusive of the £400 government discount.
Bills for E-rated properties are likely to go up by more than £1,700. Those living in the least-efficient homes, rated F or G, face a £2,700 rise. In comparison, Nationwide estimates that the cost to run a house between an A and C rating will rise by a more modest £1,000.
In this context, the case for energy efficient home improvements is clear. Based on our own sales data and that of Google, that isn't lost on the homeowner.
The question is, with rising inflation and broader pressure on household budgets, will homeowners have the confidence to invest? The housing market continues to stand firm, exceeding expectations by recording a 0.8% price increase in August on July, the 13th successive increase in a row.
With many homeowners having seen significant rises in the value of their homes, it may give them confidence to spend on home improvements, particularly those which lower their energy bills. There are also growing calls on government to incentivise homeowners to do so in the face of the unfolding national energy crisis.
We'd suggest that right now, government support is a little way off, so we're going to have to persuade those who can, to spend. That makes it a good time to go back and revisit those leads that didn't convert in the past 12 months.
Giving you visibility of every lead and its status in real time, Business Pilot brings this information to your fingertips, as well as helping you to run your installation business more efficiently, with drag-and-drop job scheduling and process automation. Business Pilot is a powerful customer relationship management tool which mobilises the power of cloud-based technologies. Accessible across all devices, it supports installers in running their businesses more profitably. For more information, visit businesspilot.co.uk.