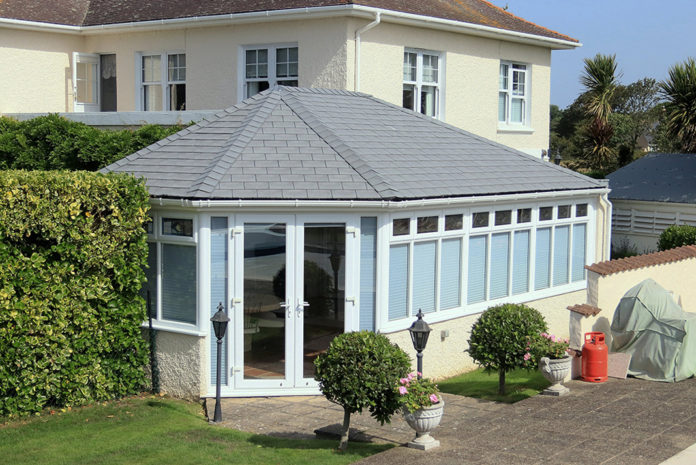 SupaLite is celebrating a record month for the company in October, thanks to high demand for its range of replacement conservatory and orangery roof kits. The company reported a 20% increase in orders, manufacturing and supplying well over 70 roof kits in one week alone.
In addition to the demand for its kit-based roof systems, SupaLite says it has also seen a growing number of partners take advantage of its new part-fabricated roof service, designed for smaller fabricators who may lack the facilities to hold bar-length material. It has also enjoyed a positive response to its new product lines, including Sky Vista, a high-performance solid tiled roof with full-length glazed feature panels.
Wes Clarkson, commercial manager at SupaLite, commented: "Traditional polycarbonate roofs are renowned for making conservatories too hot in the summer and unbelievably cold in the winter. However, with the kids off and many families away on summer holidays, homeowners are often too busy in the summer to make any changes and instead get ready for winter, when they'll see the biggest benefit.
"This is a regular trend we see here at SupaLite, but it has certainly been more pronounced this year thanks to a challenging housing market and general uncertainty. With the number of houses for sale at a 10-year low and Brexit damaging the confidence of both buyers and sellers, many homeowners are now improving rather than moving to find that extra living space they need.
"We're thrilled to be providing installers nationwide with such a valuable proposition," he continued. "SupaLite has been setting the standard in the replacement roof market for many years so it's great to see growth here at HQ and across our network of approved fabricators and installers. We must thank and congratulate our brilliant team in Preston for all their hard work in answering this mammoth demand."
A busy October followed a 'blockbuster' year at SupaLite with major manufacturing upgrades, new staff, new product lines and a successful appearance at The FIT Show.
SupaLite says that one of its proudest achievements has been launching the new SupaLite SupaStore, a brand-new facility which combines a complete trade counter and a dynamic customer hub. Based near their Preston HQ, SupaStore not only offers showroom facilities covering the complete SupaLite range, but a dedicated training space for new and existing trade partners.