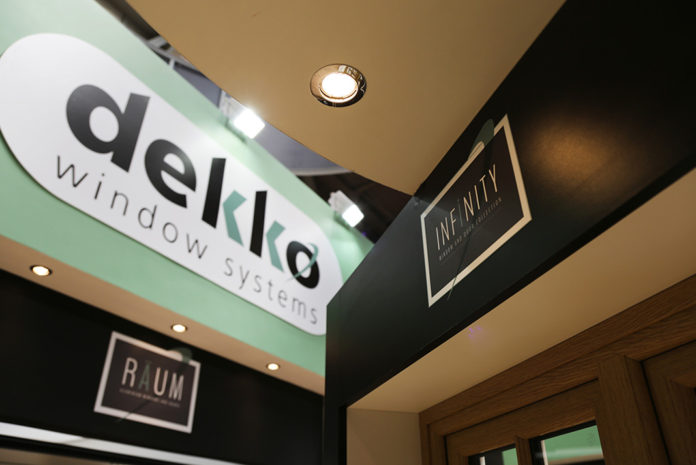 Dekko Window Systems says it is looking to follow up on its FIT Show debut in 2017 with a 'second success' at the next one, thanks to the array of premium products and services on display.
Visitors to Dekko's stand will be able to take a closer look at Infinity, the seamlessly welded PVC-U windows and doors, Räum, the high-end aluminium range, and Residence Collection, which includes the flush sash R9 and square profiled R2.
Visitors will also get a chance to see Make It Yours, which Dekko says is one of the most extensive collections of retail focused marketing collateral in the industry.
Dekko claims the main advantage Make It Yours has over other installer marketing support packages is the personalisation – Dekko will change the colour scheme and the content, so it reflects their customers brand – and the Dekko marketing support team will be on hand at the show to demonstrate how this works in practice.
According to Dekko's sales director, Kurt Greatrex, these products and services could make all the difference for installers: "Customer tastes are getting more sophisticated and installers need to have stylish products like Infinity, Räum and the Residence Collection in their portfolio if they want to succeed.
"Installers also need to market and promote themselves effectively to stand out from the crowd, and the Make It Yours package has been designed to do just that."
Dekko will also be displaying its newly launched flush door and says it has other 'exciting developments' in the pipeline which will be ready in time for the show. "The flush door looks absolutely stunning and we're anticipating it's going to be a big seller in 2019," Greatrex added.