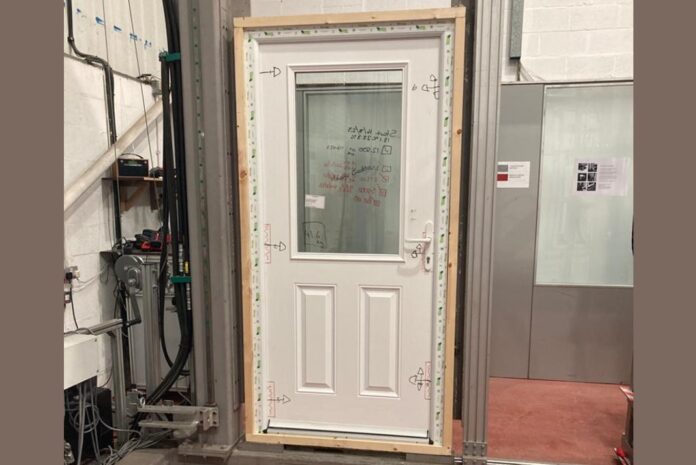 Select Windows (Home Improvement) has achieved the PAS 24:2016 certification for its Liniar composite residential door system. The system uses Distinction Doors' 44.5mm, GRP-faced composite door blank and Liniar's composite door profile.
The composite door system joins a suite of Secured by Design (SBD) window and door products available from the Walsall-based fabricator. Sample doorsets were independently tested by UL Solutions.
"We are incredibly proud of this achievement," said Nigel Court, operations director for Select Windows. "We worked closely with our suppliers and the test house to ensure the door system passed robustly.
"The fact the Distinction Doors' blank holds Secured by Design status gave confidence. As a fellow Secured by Design member, we appreciate what it takes to achieve this, and as a Distinction Doors fabricator, we are grateful for the reassurance it brings.
"We strive for excellence, and this means upholding the standards we work hard to achieve," Nigel added. "By attaining them in our own right, our customers are assured of the consistent high quality of our products, workmanship and service."
The Select Windows team uses Distinction Doors' SBD-approved door blank as standard. "We find it extremely beneficial," continued Nigel. "End users benefit from the inherent strength and security of the SBD door blank while we stay competitive with a top-quality entrance doorset.
"We even use laminated glass as standard. The only variant is the barrel; we use a 3* for SBD-specified jobs."
Elliott Dawson, associate director of sales for Distinction Doors, said: "Select Windows is a valued customer. We are incredibly proud to support them in this latest achievement."
Alfie Hosker, Secured by Design's technical manager, added: "This is a fantastic example of collaboration between SBD member companies to produce a Police-Preferred-Specification-approved doorset range. This relationship ensures that products are available which are proven to both prevent and reduce crime across communities."
Read more about Select Windows on the fabricator's website.