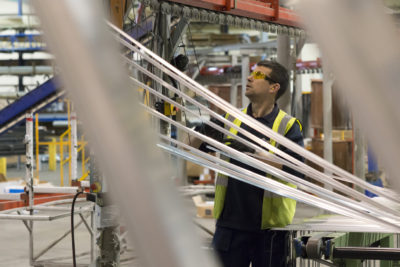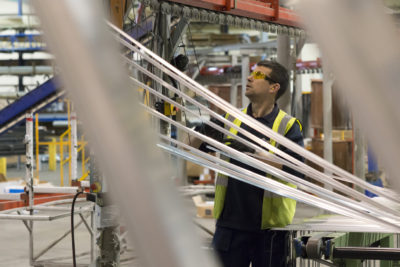 Fenestration designer and manufacturer, Senior Architectural Systems, has pledged 'significant investment' in its manufacturing facilities as demand for its thermally efficient PURe doors and windows 'continues to soar'.
Following on from the successful launch of the PURe window system and the recent addition of PURe doors to the range, the company has invested in a new high pressure polyurethane injection system to improve the speed and efficiency of its production line.
Senior's patented PURe system is said to be the first on the UK market to benefit from an enhanced thermal barrier manufactured from expanded polyurethane foam (PUR).
Traditionally used in cladding and insulation products, the use of PUR as a thermal barrier reportedly gives the PURe range the potential to achieve 'U' values as low as 0.71W/m2K when calculated as a commercial CEN standard window and 0.93W/m2K when calculated as a CEN standard door.
Mark Burton, production manager at Senior Architectural Systems, said: "This is a really exciting time for our PURe range, having recently been awarded a UK patent and with the launch of the new door options providing even greater choice and design flexibility. The new polyurethane injection system marks the start of our comprehensive investment programme, with further improvements to our Polyamide production and factory expansion also planned later this year. Now that the first batch of completed contracts to feature our PURe products are coming through, these ongoing improvements to our manufacturing facility will allow us to continue to meet the increasing customer demand for our PURe windows and doors."
As part of the company's commitment to reducing the environmental impact of its product manufacture, other recent investments include a more efficient grey water system to recycle water used in manufacture and a new £150k waste reducing powder coating line which is said to be the most environmentally efficient of its kind, saving over 22 tonnes per year of product being sent to landfill.