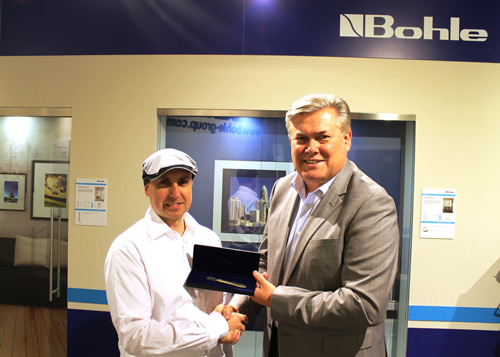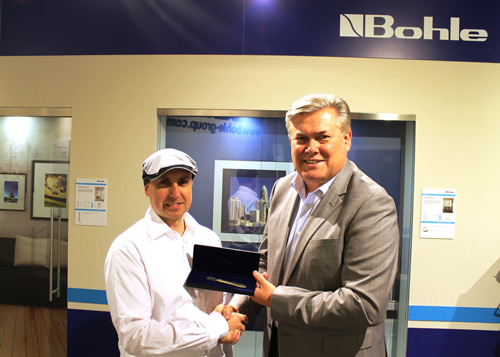 Bohle business development manager, Alic McCabe, has celebrated 25 years' service.
Alic joined Manchester glass processing tools and consumables supplier, Berlyne, Bailey & Co. in 1990, joining Bohle in 1996 with its acquisition of Berlyne Supplies.
In recognition of his 25-year contribution to the Berlyne/Bohle business, Alec was awarded a solid silver Silberschnitt glass cutter – a tradition established in Germany but now extended to the UK.
Bohle managing director, Dave Broxton said: "For 25 years, Alic has demonstrated a fantastic level of commitment and loyalty to the company. His contribution to the success of the business cannot be overstated and long may it continue."
Alic joins operations manager, Lisa Liddle and purchasing manager, Chris Conway in the Bohle '25+ Club'.
Commenting on his award at a surprise celebration, Alic said: "When I started I couldn't conceive staying with the same company for such a long time but now I can't imagine working anywhere else."
It will be 20 years since Bohle's acquisition of Berlyne Supplies this year, and the company is marking the occasion with a range of open days, seminars, special offers and giveaways.
Dave added: "We're hugely proud of our German heritage and there are huge benefits in being part of a large group as a driver of innovation.
"But ultimately we're successful because of our understanding of the market and because of the partnerships that we form with our customers – and that's down to people like Lisa, Chris and Alic.
"It's through this partnership that we and they, are continuing to push the boundaries of glass processing in the products that we manufacture and the sectors which we serve."