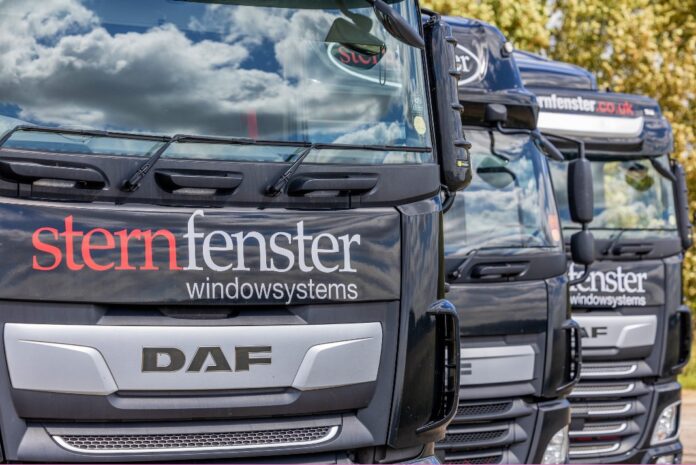 Leaders of Sternfenster have launched a vehicle tracking service, offering customers greater visibility of their deliveries. The announcement follows publication of the 'on time in full' figure for the national fabricator's transport division: more than 99.5%.
Sternfenster was the first PVC fabricator in the UK to use barcoding tracking all the way through to delivery, according to the firm's representative. It has used barcoding to track frames and glass through production, on to vehicles and out to customers since 2008.
"Our two-hour delivery window has been standard for years," said Nathan Court, sales director. "Drivers plan their journeys several days in advance so they can give our customers a two-hour window for delivery, which allows them to plan their days more effectively.
"If we look at a recent five-week window over the summer, our drivers were achieving an average on-time-in-full figure of 99.88%.
"If we take the latest week's figures, we can see that the vast majority of deliveries (83.1%) arrived in the first hour. And of those that arrived outside of the agreed two-hour window (13.7%), all were early so there were no negative repercussions for the customer. None were late.
"We are proud of this achievement because it demonstrates that we have been investing in the right areas of the business for our customers' benefit.
"Time spent on site is expensive. If our customers know that we will be arriving on site in a two-hour window, it allows them to plan their day productively, either by scheduling time on another job, or by finishing on site early.
"Time spent unnecessarily waiting is wasted profit, so we are putting money directly in the pockets of our customers!"
Leaders of Sternfenster have invested heavily in IT. Central to this strategy is the EasyAdmin system, which allows businesses to produce professional quotes quickly. "More than 50% of our orders now come to us via EasyAdmin," explained Nathan said. "We are in the process of upgrading the software so that will integrate more closely with our other IT services." For more information about Sternfenster, visit the fabricator's website.