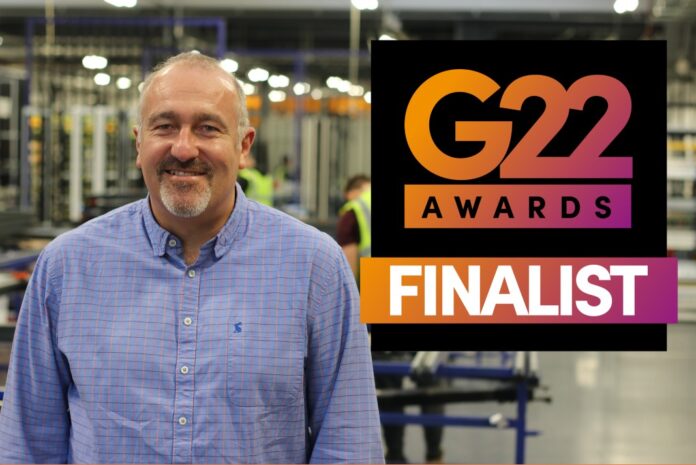 Sternfenster has been announced as a finalist in three categories of this year's G-Awards, demonstrating the fabricator's commitment to its workforce and its investment in technical innovation. The Lincoln-based trade fabricator was shortlisted for Fabricator of the Year, Unsung Hero, and Training and Development Initiative of the Year.
"Being shortlisted in three categories at the fenestration industry's most prestigious awards is a fantastic achievement, and recognises the hard work that all of our colleagues have put in to making Sternfenster the success that it is today," said Mike Parczuk, managing director of Sternfenster. "The market for windows and doors has been all over the place during the last two years but I think we have shown strength and maturity, and provided the support necessary to ensure our customers are the best-placed to win work and prosper. I am proud that everyone at Sternfenster stepped up to the challenge, and this announcement is a direct result of that effort."
Underpinning Sternfenster's entry for the Training and Development Initiative of the Year category is the business' commitment to achieving a Gold Investors in People (IIP) award, which only 19% of business achieve. Sternfenster was awarded Silver as part of the IIP awards scheme in October 2020. Since then, Sternfenster created a series of bespoke training and development initiatives aligned to the IIP framework. "People are at the heart of Sternfenster's overall corporate strategy, with our family principles and continuous improvement training and development framework being the bedrock upon which our success is measured," Mike added.
Judges reviewing Sternfenster's entry to the Fabricator of the Year category are set to partly assess the company's investment in a new virtual showroom, which aims to give customers greater control of the sales process. The virtual showroom sits within Sternfenster's consumer lead-to-manufacturing, adaptive approach to selling windows.
The virtual showroom is a multi-tiered platform that includes elements such as CGI videos, 360º product walkthroughs, sales videos and an online tour. The result of a £40,000 investment, Sternfenster's virtual showroom is a response to changing homeowner buying habits. It aims to gives customers the tools to effortlessly manage leads, from enquiry through to sale.
"People moved online during the pandemic to research and buy home improvement products," Mike said. "And it didn't decline as we moved back to a sense of normality. It is vital we keep up with changing habits, and even pioneer new ways of doing business, which is why we developed the Sternfenster Virtual Showroom."
The business' technical trades manager, Kev Wallis, was shortlisted for the Unsung Hero award, thanks to his hard work, loyalty and commitment to perfection. Employees and customers alike queued up to say what a great character and role model Kev is, and how he has developed them as Sternfenster employees, or as valued customers.
"Our business would be very different today had we not had Kev," Mike said. "He has been fundamental to the growth and continued development of our business, our colleagues, and our customers for many years."
An independent panel of judges has been assigned to select the award winners in preparation for the G-Awards gala dinner and awards presentation evening, which is set to take place at the Intercontinental London Park Lane on Friday 25 November. For more information about Sternfenster visit sternfenster.com, email sales@sternfenster.co.uk or call 01522 512 525.