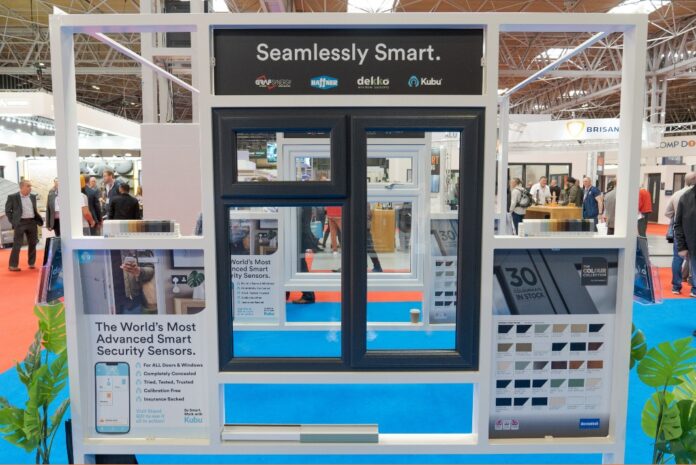 Trade supplier Dekko Window Systems is set to introduce its latest product to the market at next month's Glazing Summit conference. Described as "the world's first fully seamless window", the product has been launched in order to help installer customers get ahead of the competition, Dekko's representatives have said. The Glazing Summit is due to take place at Edgbaston Stadium on Tuesday 18 October 2022.
Following an exclusive partnership with machinery expert Haffner, the Infinity fully seamless window is made with reverse butt welding. It is available only with Haffner's new Graf Synergy machine.
Dekko has also teamed up with Kubu in order to offer the new seamless sash with smart security sensors. Once these sensors are set up, they should provide security and lifestyle smart alerts through the dedicated Kubu app.
"The fully seamless window is a world first from Dekko, and there's no better place than the Glazing Summit to introduce it, as it attracts all the big industry players," said Kurt Greatrex, Dekko Window Systems' sales director. In addition to the fully seamless window, Dekko is also set to showcase the Decalu 88 bi-fold and the Decalu 88 entrance door at the Glazing Summit, two products that the business has recently added to its high-quality and reportedly popular Räum range.
Kurt continued: "We are delighted to be adding these aluminium products to our range for our customers. The Decalu 88 aluminium bi-folding door delivers industry-leading U-values of as low as 0.68W/m²k triple-glazed or 1.4W/m²k double-glazed. As a Glazing Summit partner, I very much look forward to discussing the new products throughout the day."
The Glazing Summit is advertised as a one-day, no-nonsense conference for industry leaders and business owners from across the glass and glazing industry. At the event, expert speakers are set to debate and discuss the burning issues that face the sector now and in the future.
Dekko has supported the Glazing Summit every year since its inception in 2018. Talking about the conference, Kurt said: "The Glazing Summit is a must-attend industry event as there is nothing else like it in the calendar. We are excited to be sponsoring again this year and look forward to being part of the discussions."
Andrew Scott, founder of the Glazing Summit, said: "Dekko is a trailblazing fabricator of high-end PVC-U and aluminium windows and doors, including the Residence Collection, Infinity and Räum. The business consistently improves its product offering for installers, and they have done it again with not only the world's first seamless window but with the Decalu 88 bi-fold and the Decalu 88 entrance door too. We are absolutely delighted that they are partnering with us for the fourth year running."
For sponsorship opportunities and tickets, visit glazingsummit.co.uk. You can also call 01934 808 293 or email hello@glazingsummit.co.uk.