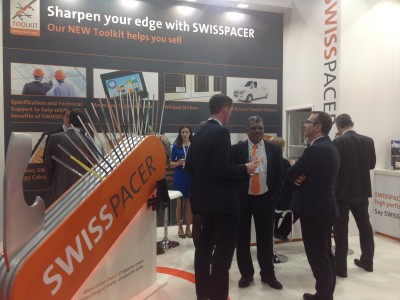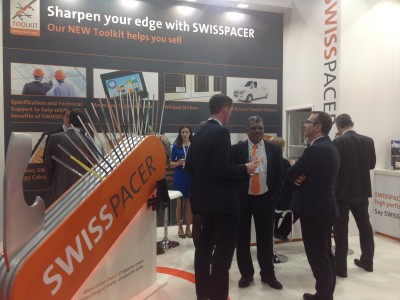 This year's FIT Show was reportedly the most successful yet for warm edge spacer bar supplier, Swisspacer.
According to Swisspacer, the stand was constantly busy with visitors keen to see its latest innovations and learn more about its new Marketing Toolkit.
The company also reports strong interest in its new 32mm and 36mm bars, ideal for the most energy efficient doors and for sealed units with integral blinds. The new bars, which bring Swisspacer's total number of bar widths to 19 – said to be the widest range on the market, are described as a great choice for bi-folds, conservatories and office environments.
Swisspacer's new Marketing Toolkit is a free suite of marketing and sales aids and visitors found out how the Toolkit can help them sell the benefits of warm edge. The Toolkit pen knife was a real show stopper and talking point for visitors. It included Swisspacer's colour range of 18 spacer bars, and iPads for those wanting to try out its energy calculating app Caluwin.
There was also an exclusive show of Swisspacer Air, a clever device that prevents sealed unit failure caused by changes in altitude. And each day ended perfectly with a chilled glass of bubbly for customers and others to enjoy!
Swisspacer's head of Marketing & Sales (UK & Ireland), John Cooper, said: "We were delighted with the response to Swisspacer at The FIT Show. We had strong leads throughout the three days and it was great to catch up with so many customers. The FIT Show organisers did a fantastic job – the whole event was buzzing and everyone I spoke to agreed that this year was the best FIT Show yet!"