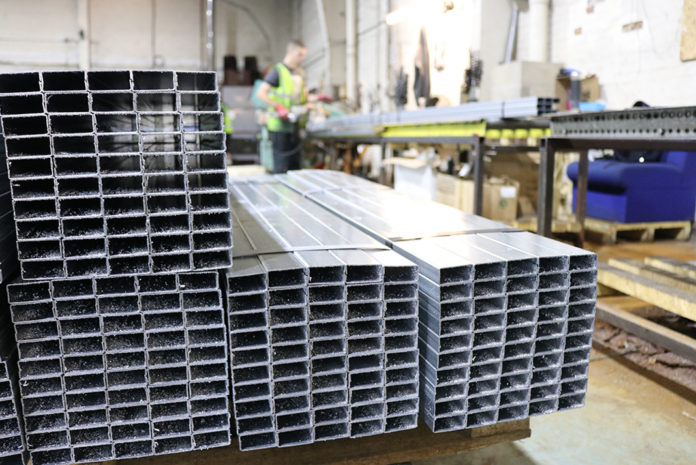 Anglo European has said manufacturing capability and distribution across two sites, means that it can guarantee security of steel reinforcement supply even in a local lockdown.
Leicester became the first city in the UK to go into a two-week local lockdown at the end of last month, reinstating and extending the COVID-19 restrictions, which were being eased at the same time across the rest of the country.
With the R-rate up again in England and hitting the crucial value of '1' over the weekend [10/7/20] and an average of more than '100 local outbreaks' a week, analysts argue that more local lockdowns are likely.
These give authorities in a locally locked down area the power to temporarily close any business where there are a cluster of cases, impacting that company's ability to supply its customers.
Paul Sullivan, managing director of Anglo European, said: "We've already seen disruption to the steel reinforcement supply chain impact on many fabricators, with a number of suppliers reporting stock-outs.
"Clearly any additional disruption to supply because of a local lockdown, or worse temporary shutdown of production, is going to compound that, something that at a time of high demand, represents a very real risk to window and door supply."
The R-Rate is the COVID-19 reproduction number, key to keeping transmissions levels at a manageable level. This represents a calculation of how many people an infected person is thought to transmit the virus to on average.
If the R value is one, each carrier passes the virus on to one other person, which means the spread of the virus will remain at the same level. If, however, there is even a small increase above one, to 1.1, the impact can be massive.
Regional statistics show that up until now, broadly stable, that only a week after pubs and restaurants re-opened it has hit 0.7 to 1.1, in the South West, with other parts of the country wavering between 0.7 and 1.0. This could prompt government to put more local lockdowns in place.
Anglo European has maintained supply of its steel reinforcement and ancillaries offer throughout lockdown. It buys steel from UK manufacturers, which means its own supply has been uninterrupted, while its model of supply direct to fabricators has meant it has maintained pre-COVID-19 service levels.
These are manufactured across two sites, Anglo European's primary manufacturing facility in Manchester and its second steel rolling facility, Marybern Steel, in North Wales, acquired by the Group in 2015.
It also acquired aluminium component specialist, Aluminium Shapes, at the end of July last year, which with its pre-existing steel manufacturing facilities gives the Anglo European Group a unique combined capability in the UK to cold roll steel and extrude aluminium.
This supports a strategy to expand its offer across sectors to include not only reinforcements, bay posts and couplers but also to develop an ancillary product offer.
"Operation and distribution across three sites means that should we see a local lockdown, we have the flexibility to redirect manufacture and distribution between them, guaranteeing supply to our customers," said Paul.
"It's not something we would want to do but it's important given the disruption seen within steel reinforcement and supply of aluminium components in the industry in general, that we put plans in place and are prepared for that worse-case scenario.
"Security of supply is key and multi-site operation and distribution, as well as direct supply to the fabricator, means that we can not only save them money but guarantee our service to them, whatever lies ahead."
In buying reinforcement direct from Anglo, fabricators can cut the price they paid for steel reinforcement by 30-40%. The figures, which are based on buying-in cut-to-size reinforcement, represent the culmination of labour and employment costs, reduced wastage and the lower unit price achieved through direct supply.