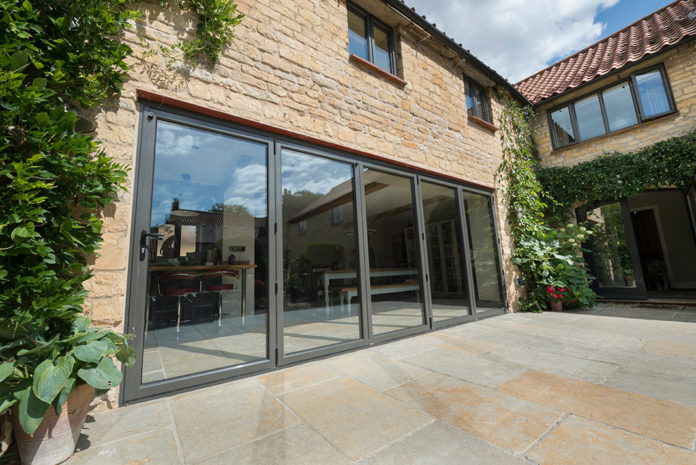 Sternfenster is offering five-day lead times on bi-folds, even while retail demand continues. The rapid lead times are being offered on the fabricator's aluminium product range – including its bi-fold, sliding patio and casement offering – despite continually high demand at the start of this year.
Products included in the five-day turnaround include Sternfenster's Smart Visofold aluminium bi-fold in standard RAL grey, black and white and dual grey on white. Its Smart Alitherm 300 casement window in RAL white and grey is also offered on the same five-day timescale. For orders on single colours, the Visofold bi-fold is available in ten days, with other products, including the Smart Visoglide inline slider, delivered from just 15 days.
Sternfenster's capability to offer aluminium products on fast lead times stems from a significant £3.6m investment in aluminium production in 2017. This included the introduction of a dedicated 30,000ft2 factory, 10,000 ft2 of office space and an in-house powder coating line.
Since its investment, Sternfenster has further bolstered its aluminium production capacity with the addition of a Schirmer ALU BAZ Composite Orbit-C machining and cutting centre, increasing both precision of manufacture and quality of product. It also has a four-head Ever Theta frame crimping machine from FOM.
Designed to ensure exceptional accuracy during manufacture by using profile scanning technology, the Ever Theta frame crimper is capable of flagging out of tolerance profiles of as little as 0.4mm in length or 0.9mm on the diagonal, delivering extremely high levels of finish to 45-degreee mitre and 90-degree joints. It is also capable of reducing full-cycle times to just two minutes and 31 seconds – around half the time it takes to use a conventional, single head crimper.
Sternfenster's commitment to fast lead times follows reports of ongoing activity in the home improvement market; statistics from February's Business Pilot Barometer – a monthly analysis of data from the retail sector – revealed a 34% jump in sales in January and an increase of 111% in new leads (click here for our fuller story on this.)
"Our continued investment in automation throughout our aluminium facility has not just resulted in higher levels of output, it has allowed us to deliver a superior quality of finish, and a greater consistency of quality to the finished product," said Mike Parczuk, Sternfenster's managing director. "This ensured that we were well placed to respond to the high levels of demand fuelled by Covid-19 restrictions in 2020.
"With installers still working hard to complete orders that were placed last autumn, and with the introduction of 'Lockdown 3' at the start of the year, it also means that we can continue to offer the fast lead times that our customers need in order to make the most of anticipated demand into the spring and summer as restrictions ease and consumer confidence rises," he concluded.
Sternfenster manufactures a comprehensive range of aluminium products, including those for commercial applications. In addition to its Smart Alitherm 300 casement, Visofold and Visoglide doors, it also offers Smart Alitherm heritage windows and Plus Doors, as well as the Smart EcoFutural tilt and turn, MC600 curtain walling, Smart Wall thermal shop front system, plus the Smart Shopline modular screening solution.