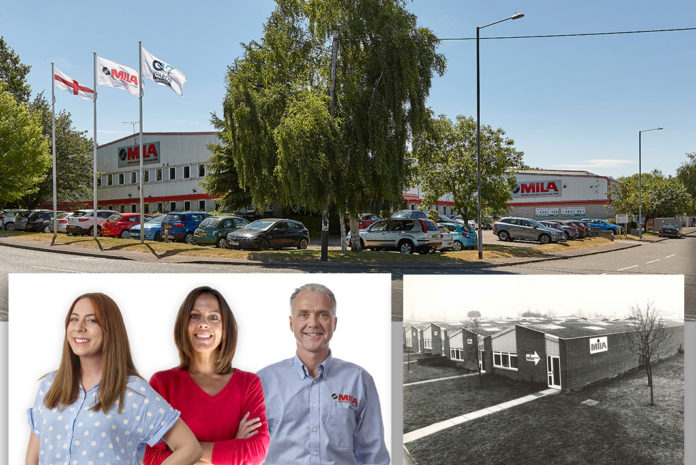 With Mila celebrating a 40th anniversary year in the UK for 2020, the hardware specialist says that a raft of key people from across the business are also celebrating milestone anniversaries.
For technical director, Strafford Cooke, 2020 is his 30th anniversary, for marketing director Sarah Gyde, it's her 20th anniversary and for Jennie James from Mila's sales office team, it is her 10th anniversary.
Mila says that it is a company which values its team and 'works hard to engender a feeling of family and togetherness'. As a result, a third of the staff have been with the business for more than a decade and 10 for more than 30 years.
Managing director, Richard Gyde, himself a 39-year veteran, says that the reason why people stay at Mila is not because they are comfortable or complacent but because it's an exciting and dynamic business where people have the opportunity to build exciting and rewarding careers.
"We know that our team are our biggest asset, so we've created a culture where hard work and loyalty are rewarded," he said. "Right across the business, our team have accumulated vast amounts of knowledge and experience and of course that's ultimately what makes Mila a great company to do business with."
Strafford Cooke, who spends much of his time providing technical support and advice to customers, as well as sitting on various industry committees representing the views and interests of the hardware sector, commented: "The Coronavirus pandemic has shone a light on corporate cultures like nothing before, and the way that everyone in 'Team Mila' has responded and been supported throughout has confirmed to me exactly why I'm still here after 30 years. Mila cares about its staff and its customers and that really matters to me. I'm proud to have spent so much of my career here and I'm already excited about what we will all do next."
Sarah Gyde added: "Mila strives to be the best hardware business in the UK, and I think our marketing has always reflected that. Over the past 20 years, I've worked hard to help build a brand with real integrity which promotes quality and service above all else. Certainly, we differentiate ourselves via our products but, more importantly, we differentiate ourselves via our team and I'm proud to be a part of it."
After 40 years, Mila is said to be 'almost unrecognisable' from the business set up by Ray Gyde in Daventry back in 1980, as the UK arm of the Mila operation founded in Denmark in 1971. Now part of Arran Isle Group, the company says it has grown into a 'highly efficient global operation' with an advanced supply chain manufacturing more than 70% of its own products and achieving line OTIF, even in the midst of a Pandemic, of around 90%.
However, according to Mila, it still retains the 'can do' spirit which saw it go from two employees in 1980 to 60 by 1986 and double its turnover between 1986 and 1988 from £12m to £24m.
Richard Gyde said: "As everyone who was in the window industry in the 80s will remember, those were pretty crazy times and I'm not sure any of us would want to go there again. However, I'm incredibly proud of the fact that Mila is still a company which sets itself ambitious targets and is prepared to work incredibly hard to achieve them. We've grown and evolved over the years into a market leading business which is still setting the benchmark for others, and so much of that is down to the contribution of the many long-standing members of the team."