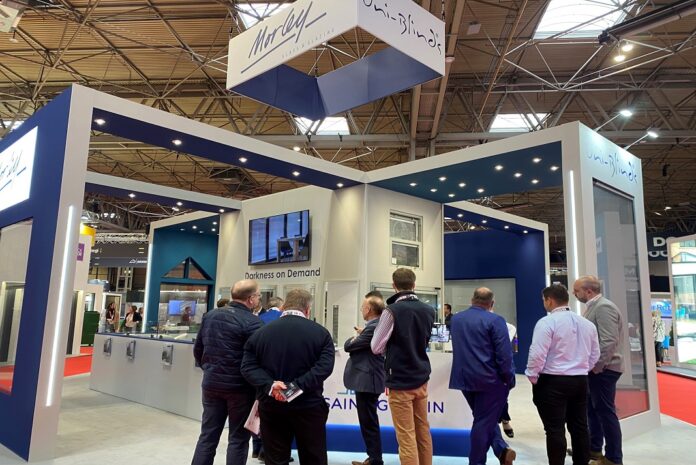 The 2022 Fit Show proved to be a success for Morley Glass, with an incredible response from the industry to its range and its newly launched systems, according to managing director Ian Short.
The company's Fit Show stand gave visitors the opportunity to touch, feel and try-out its range of integrated blinds. There was a free prize draw too, which was won by James O'Brien of TWR Group – he wins a Uni-Blinds integral blinds package worth £1000!
The new Uni-Blinds systems were the stars of the show. Its new SV+, which is a symmetrical version of the SV sliding Venetian blind, attracted strong interest from installers who wanted to see the potential for Uni-Blinds.
The new Uni-Blinds pleated blackout integral blind was also a big attraction, thanks to its ability to provide complete "darkness on-demand" in rooms such as nurseries and cinema rooms, as well as bedrooms affected by light pollution from streetlights and car headlights.
The SmartHub technology for the W Smart solar controlled integral blind, which means the blind can be controlled via a smartphone app, and the new ScreenView system for health and social care environments, both demonstrate how Uni-Blinds can suit specific end-user applications and tastes.
All Uni-Blinds integral blind systems are made by Morley Glass in the UK exclusively using ScreenLine integral blind systems from Pellini.
Ian Short, MD of Morley Glass said: "We had an incredible response from the industry at the FIT Show so thank you to everyone who came to see us. It was fantastic to get back to meeting people face-to-face and seeing so many familiar faces, as well as having an opportunity to introduce Uni-Blinds a new audience."