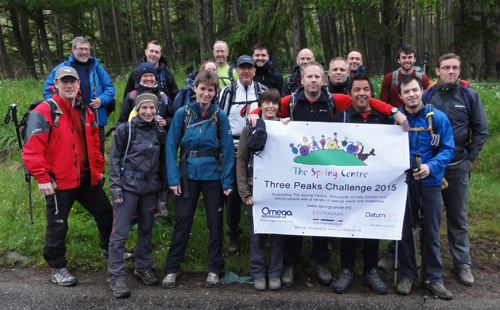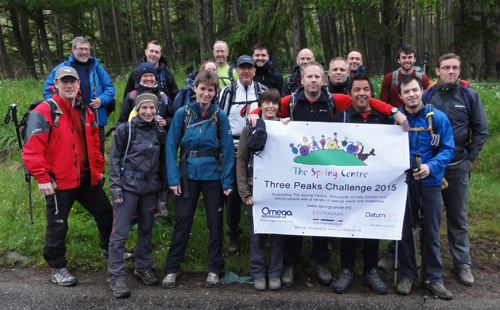 Aching limbs and dwindling energy levels couldn't dampen the spirit of a team of directors and staff from Customade as they took on the punishing Three Peaks Challenge to raise £18,000 for a Gloucestershire based charity.
The 21-strong team's attempt to scale the three highest peaks in Scotland, England and Wales was in aid of The Spring Centre, which provides support to the families of children with disabilities and special needs across Gloucestershire. The 24-hour dash to conquer Ben Nevis, Scafell Pike and Snowdon was the brainchild of Nick Gibbons, Customade Group operations director. His 11-year-old daughter, Niamh, who suffers from a genetic condition and needs 24 hour care, regularly visits The Spring Centre for essential respite care.
The brave adventurers included Nick and his wife Carly, Customade Group managing director John Lightowlers and his wife Kirsty and Customade Group sales director, John Adams. Also on the team were big-hearted staff from Crystal Units of London and the Omega Resource Group, which is based close to Customade in Stonehouse. All three companies contributed to the mighty fundraising effort. The team was transported from peak to peak by drivers Derek Travers from Customade and Steve Fisher from the Spring Centre.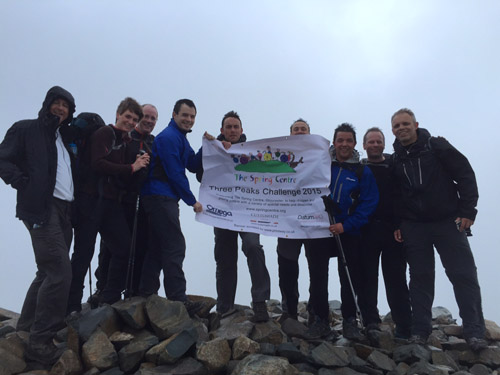 Rain and snow didn't deter the three intrepid Customade directors, who, together with nine of their remaining team members, completed their mammoth challenge in 23 hours and 45 minutes.
Nick Gibbons said: "This was undoubtedly the biggest challenge I have ever attempted but it was important for me to put every effort into raising as much money as possible for the Spring Centre – a place that is very important to my family. There was a huge amount of preparation and training involved and I am so proud of everyone who took part in this epic event. It was tough to keep going for 24 hours but the sense of camaraderie was amazing. I'd like to thank everyone involved for such a great effort in doing this challenge and raising money for a very deserving charity."
You can read more about the team's adventures on Nick Gibbons' Just Giving page www.justgiving.com/nick-gibbons72