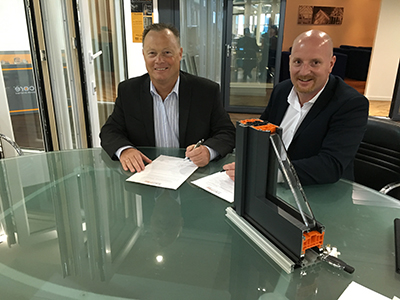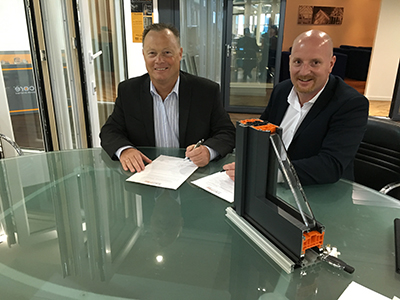 For almost a quarter of a century, Sussex based Tradesmith has fabricated windows, doors and conservatories for the PVC-U market.
During this time, it says it has continued to invest and grow the business 'to ensure it keeps delivering market leading innovations to its extensive customer base'.
When the company decided to take the business in a new direction and add aluminium to its product offering, it says that there was no better product to do it with than WarmCore – the 'warm aluminium' window and door system from the Synseal Group.
Mark Hutchinson, managing director at Tradesmith, explained: "We have been looking at the aluminium market for some time now but nothing really stood out.  Each system has its advantages and disadvantages, but none of them really had a point of difference.  As soon as we were introduced to WarmCore, it was obvious that this was the move we needed to make. It's completely unique; a hybrid system of sorts and has many advantages over traditional aluminium offerings.  We knew it was going to be a huge undertaking, but something we were ready to do with the right premises and equipment. It was around this time the neighbouring unit became available which means we now have a fully functioning and ready to fabricate, aluminium facility – right next door to our PVC factory. 
"It's been pretty quick in terms of getting things going.  From taking on the lease to where we are today has taken just four months and the entire process has run fairly smoothly. Obviously it hasn't been without its headaches – when the investment is in excess of £120k, the odd sleepless night is to be expected – but Synseal has offered us help and support along the way and provided technical advice when required.  As a new customer, we would highly recommend them to anyone in our position considering a move into aluminium, as the product is fantastic and they have ensured the process is relatively painless.
"This investment means, as well as continuing to deliver on our customers' PVC-U expectations, we can open up new opportunities with a view to further expanding our business.  Although we have turned things around pretty quickly, we have carefully considered each decision we have made and are confident we are entering this market reliably.  This is by far the biggest thing we have done since setting up 23 years ago and we are excited about what the future looks like for Tradesmith."
Andy Jones, sales and marketing director of the Synseal Group, concluded: "Tradesmith is an excellent example of how easy it can be to introduce aluminium to your offering.  They took the decision to fabricate WarmCore and have since shown a great deal of drive and determination in order to be ready to go in such a short space of time.  We are delighted to have them on board as a Synseal customer and are confident that WarmCore will prove to be a fantastic addition to their product range."