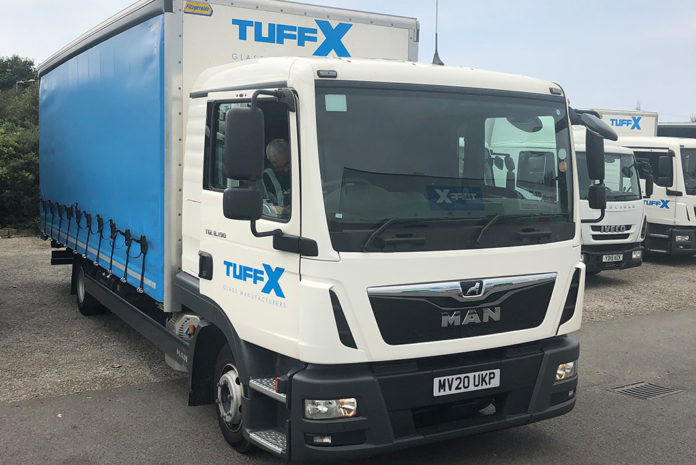 Safety glass specialist, TuffX, has recently added four vehicle upgrades to its fleet, an investment towards increased delivery capacity and flexibility.
The new vehicles include a sprinter van, a 7.5-tonne truck, a 10-tonne truck and a 13-tonne truck – a range of sizes that complement the existing fleet and ensure TuffX can continue to be relied on to deliver products economically on a large scale, along with rural deliveries on routes with potentially restricted access.
According to TuffX, the improved vehicle fleet means its customers are now served 'better than ever' when it comes to fulfilling orders on its conservatory glass and processed glass products, such as balcony and balustrade glass. TuffX also recently reported a surge in orders for its flat and walk-on Infinity rooflights, revealing lockdown has not affected customer demand for its, high-end contemporary range.
Before lockdown, TuffX began the year by increasing its Merseyside manufacturing facility to make room for a new Glaston RC Series furnace, an investment that came hot on the heels of an expansion that had already seen the same facility grow by almost 50%. The latest additions to the vehicle fleet continues TuffX's commitment to invest and grow, despite the challenges 2020 has brought.
"With our ongoing investment we're continuing to look to the future, ensuring we remain the first choice for those looking for the best in toughened safety glass," said TuffX's managing director, Graham Price.
"Our increased fleet capacity means installers and builders can have complete confidence we're ready to deliver orders on our products, including our increasingly popular Infinity rooflight range."