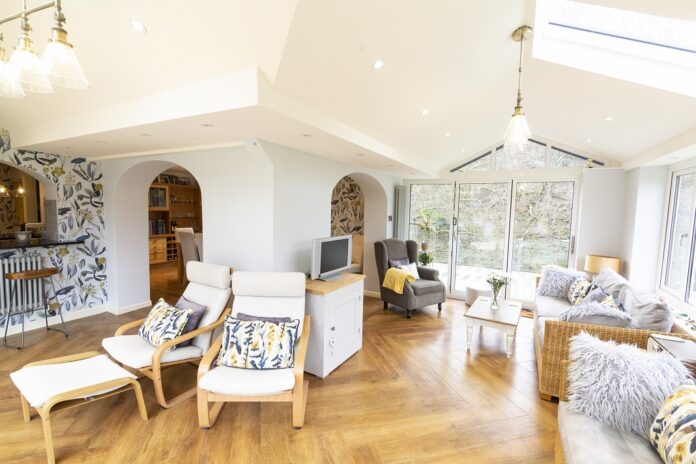 Ultraframe has announced the company's solution to achieving the U-values required by updated building regulations. Both its 'Ultraroof' and 'Livinroof' solid roof products have been re-engineered by the research and development team to meet the new 0.15 W/(m²K) requirement, according to Ultraframe representatives.
The solution for the Ultraroof tiled roof is a new foil membrane that is applied to the Ultrapanel insulation panels during the manufacturing process. On the Livinroof hybrid roof, a phenolic insulation board is being incorporated into the product.
Alex Hewitt, Ultraframe's marketing director, said: "When we set about designing our solutions to the updated building regulations in terms of our solid roof U-values, we had several key aims – that there would be no extra installation steps, that the aesthetics of our roofs weren't affected and that homeowners were guaranteed to get a compliant roof. We were conscious that should our solution be something that the fitter had to manually apply on site, there was a risk of it being forgotten or omitted.
"As so much care has gone into the aesthetic appeal of our Ultraroof and Livinroof systems, we were also adamant that our solutions must not affect the good looks of the roofs."
Other suppliers have chosen a solution whereby additional components such as extra layers of PIR (insulation) or timber are attached to the roof by the fitter, increasing the install time of each roof, Ultraframe's representatives have said. As even lower U-values are demanded from 2025, manufacturers offering extra layers of products or higher-spec plasterboard as their solution may be left with nowhere to go. this may result in roofs getting thicker and heavier, Ultraframe's representatives suggest.
Alex added: "We are delighted to have implemented these hassle-free and failsafe solutions which have already been welcomed by our retail customers. Homeowners choosing an Ultraframe solid roof can have absolute certainty that they will receive a compliant roof that looks just as striking as it did before the changes to building regulations."