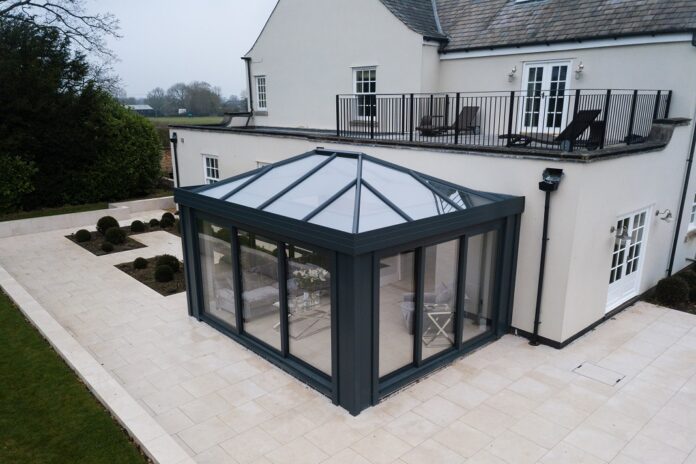 Leaders of Ultraframe are offering a free upgrade to the contemporary slimline ridge for its Glass Roof system. The free upgrade offer means that the price of the aluminium slimline ridge is now at the same lower price as the original classic ridge, meaning that customers can offer a modern glass roof at a price that is on average 10% cheaper.
"The slimline ridge for our Glass Roof creates an extremely modern slimline aesthetic that has similarities with the look of a lantern as it does not feature radius ends," said Alex Hewitt, Ultraframe's marketing director. "This clean, modern look is what many homeowners these days desire, and makes the Glass Roof a perfect choice for any contemporary-styled home extension project.
"The Glass Roof takes on a whole new look when paired with the slimline ridge," she added. "This latest price promotion ensures that our customers can offer the styling that homeowners demand while making a substantial saving.
"We are running a whole host of price promotions right now. These are designed to help our customers offer better prices to homeowners who are largely struggling in the current climate to balance higher living costs with their home improvement ambitions."
Other current price promotions include: 5% off all roofs when ordered with 'hup!' walls (read about the 'hup!' brochure here); 20% off the Orangery by Ultraframe range; 10% off flat skylights and 10% off glass.
Alex continued: "When people think of our Glass Roof they immediately tend to go in their minds to an image of a 'typical' conservatory. While this is of course one of the uses for the system, it can be used to create far more current home extension designs to tremendous effect.
"For anyone wanting a glass roof without radius ends for that truly modern aesthetic, this is the roof for them. We would urge people to take a look now, while prices are low."