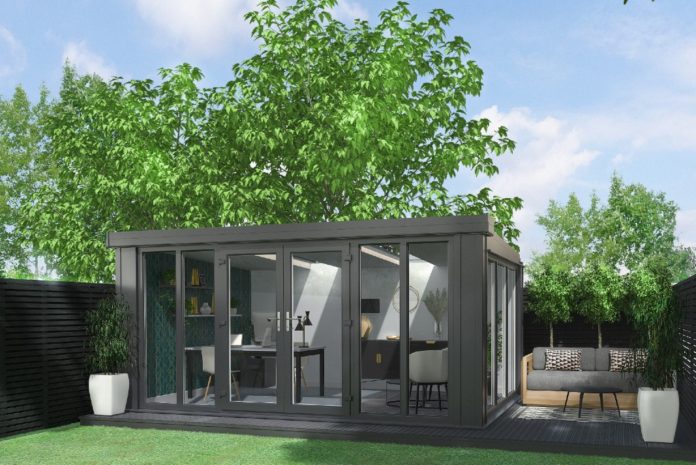 Ultraframe will launch its new range of contemporary garden rooms in April. The products are easy and fast to build, with components already familiar to Ultraframe customers. Plus, with a lead time of just 10 days, Ultraframe customers can offer a fast turnaround in a sector where lead times have been growing.
Available in two styles, the Studio and the Pavilion, the garden rooms feature super-insulated columns and can be personalised with full-length windows, contemporary side panels and, unlike alternatives on the market, feature full-length glazed roof panels, says Ultraframe.
Alex Hewitt, Ultraframe's marketing director, said: "Garden rooms are becoming hugely popular, with many families needing more space that can be used as a home office or gym, during the pandemic and beyond. Demand for these beautiful spaces is at an all-time high, and so we have created a modular proposition which means that our customers can be up and running to sell and supply our garden rooms within days. Not only that, but because the components are already familiar to Ultraframe customers, they are incredibly simple and fast to build – in fact our Garden Rooms can be watertight in less than a day!
"Everything is precision-engineered off sitem so that it all fits together perfectly during the build. We've created a range of sizes and options based on two core styles – the Studio, with a reverse lean-to Livinroof, and the Pavilion, with a Georgian-style Livinroof. As with all Ultraframe products, light was a crucial consideration in the design, and so one of the key USP's are the full-length glazing panels in the roof which fill our Garden Rooms with heaps of natural light and are sure to appeal to homeowners."
The new Ultraframe garden rooms are twice as energy efficient as other premium garden rooms on the market, Ultraframe says, with the walls and roof both energy efficient enough to meet building regulation requirements for a home extension. This is partly due to the product's super-insulated columns that are five times more thermally efficient than brick piers of the same size. The product also has a Livinroof that offers a U-value as low as 0.16, and walls featuring the company's patented insulated Ultrapanels. Ultraframe has carefully selected the range of sizes and shapes to ensure that some styles are also exempt from planning permission, and all components come with a 10-year guarantee. The company claims that its garden rooms have a life span beyond 30 years.
Finished in a premium contemporary anthracite grey cladding, the new garden rooms are fade resistant. The cladding also means that Ultraframe's garden rooms are virtually maintenance free, and will look fresh and new for many years to come.
Ultraframe garden room customers will have access to a marketing toolkit which will enable them to begin promoting and selling garden rooms within a few days, with the aid of a specification guide, retail brochure, online designer/quoter and digital ordering functionality.
Alex said: "With restrictions on our normal way of living set to be in place for some time yet, garden rooms are a great way for a family to quickly adapt their garden into a highly useable and attractive space. Ultraframe customers will be able to build these impressive rooms without any additional training, as they already have the skills required. This is a fantastic opportunity for our installers to quickly get involved in a highly lucrative market and offer a class-leading Garden Room to their customers." To find out more about Ultraframe Garden Rooms, visit www.ultraframegardenrooms.co.uk.