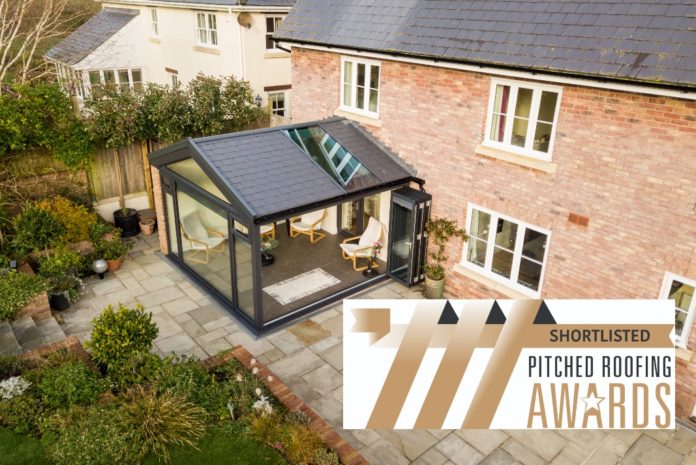 The Ultraroof solid roof system – from conservatory and extension specialist, Ultraframe – has been shortlisted twice in this year's Pitched Roofing Awards scheme, run by GGP's sister publication, Roofing, Cladding and Insulation (RCI). Two projects featuring Ultraroof have been chosen as finalists in the 'Best use of a solid conservatory roof system' category of the 2021 Awards. Ultraroof is the only roofing system to have been shortlisted in the category. RCI's Pitched Roofing Awards acknowledge and reward excellence within the roofing sector.
Alex Hewitt, Ultraframe marketing director, said: "We feel very proud that Ultraroof is the only solid roof system to have been selected for the shortlist at this years' Pitched Roofing Awards. The two projects shortlisted are both fantastic examples of Ultraroof's capabilities. One demonstrates perfectly how Ultraroof saves huge amounts of money on steel goalposts due to its immense strength, and the other is a roof replacement/change of roof style on a tricky shape – but of course, Ultraroof can be used for any shape or style of roof."
The two installation companies shortlisted for the Ultraroof projects are Green and Heritage Roofing, of Halifax, West Yorkshire, and Southern Conservatories, of North Perrott, Somerset. Green and Heritage Roofing undertook a project which involved transforming a T-shaped polycarbonate conservatory into a contemporary Ultraroof lean-to extension, complete with several full-length glazed panels. The change of shape meant that the project was technically difficult, but this was not a problem for the Ultraroof system as it can be used for any shape or size of roof, its manufacturer claims.
Southern Conservatories are shortlisted for a gable-style Ultraroof extension featuring a large span of bi-folds. Thanks to the strength of the Ultraroof 380mm box eaves beam, no additional support was needed over the doors, and so the installer was able to save around £3,000 retail compared to using other roofs on the market, where a steel goalpost would have been required.
Alex added: "We feel extremely proud that both shortlisted entries in the solid roof category at the Pitched Roofing Awards are for Ultraroof projects, and we would like to offer huge congratulations and the best of luck to our retail customers who designed and built these stunning projects." To find out more about Ultraroof, visit www.standoutwithultraroof.com.