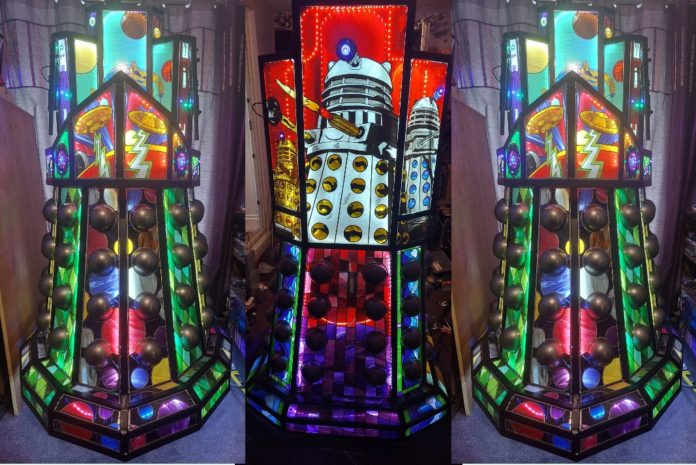 Toby Bateson, a lifelong Doctor Who fan based in Blackpool, Lancashire, has created a three-dimensional Davros figure, using decorative glass products made by RegaLead. The year-long project saw Toby build the device from scratch and is complete with a steel frame, wheels, a control panel as well as an anti-gravity device to make it look as if it is hovering.
The space between the frame is filled with Perspex and covered in self-adhesive coloured film and lead, to give a stained-glass effect with several Doctor Who-related designs. RegaLead received the unusual request last autumn (2020), to supply Toby with the stained-glass art film and adhesive lead.
"I asked lots of companies, but most didn't want to know before I got in touch with RegaLead, who were very helpful," said Toby, who often drives around Blackpool dressed as Davros. "I wanted to create a stained-glass effect, but couldn't use glass, so I needed advice on how to create this effect on Perspex. RegaLead got back to me and pointed me in the right direction, and I eventually got some self-adhesive film and lead to create the designs. I asked for some swatches so I could pick the right colours and they provided me with more than 400 samples to choose from!
"I ordered around 30 or 40 sheets and the lead, which helped me create the designs to go on the outside of the Davros. Everyone loved it on social media."
Guy Hubble, RegaLead's joint managing director, said: "Over the years, we have been involved in some fantastic projects and the whole team love seeing the stunning creations that can be made with our products. We were amazed when Toby sent through the images of the completed job and this project really is one of a kind!" To see more of Toby's amazing creation, follow @Dadros3 on Twitter.