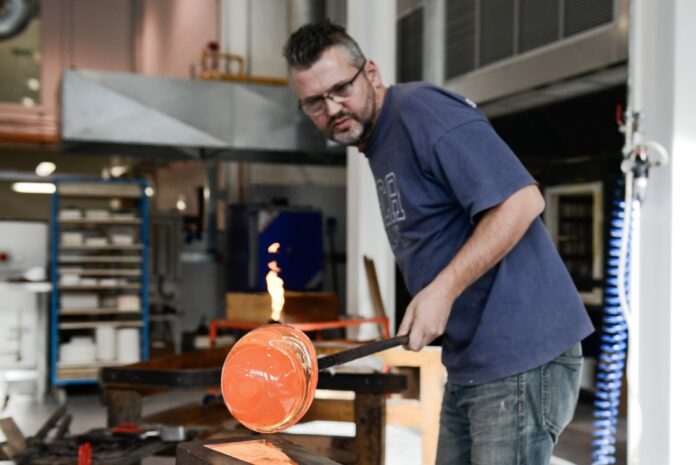 A sustainable glass company is set to formally launch this year, after raising more than £10,000 in a crowdfunding campaign to build a workshop. Three specialists have joined forces to launch the Upcycled Glass Company: Ian Hankey, principal technician at Plymouth College of Art's Fab Lab; Dartmoor-based farmer Andy Bradford, and award-winning designer and glassmaker, Richard Glass.
Based at Andy's Brimpts farm workshop, after the initial £10,000 was raised by the Upcycled Glass Project Crowdfunder, the three-strong team has developed a circular economy model that upcycles local waste glass. The South Devon-based team will be creating handmade art and design products from unrecyclable glass, using a combination of new technologies, modern farming methods and historical glass-mixing processes that date back to the 17th century. The success of the crowdfunding campaign means that the company can build a small furnace at the farm.
Sustainability is at the forefront of the new company, according to Ian: "I've spent over 20 years developing methods of reducing emissions and reducing the costs of building and running glass equipment, from creating a portable glass furnace that cuts emissions over traditional furnaces by up to 70%, to developing more efficient solar panels and helping to develop small-scale CO2 recapture systems," he said.
As well as creating a glass manufacturing site with lower emissions, the company aims to set an example of sustainability for the UK and the EU. Ian said that UK glassblowers currently pay up to £2,500 a ton to import art glass material from the EU: "Worse than that, in the UK and EU, we recycle about 71% of container glass, but end-of-life building waste glass, such as window glass, is almost never recycled into new glass products, and mostly ends up in landfill."
The three company founders have been joined by four industry specialists: Dr Katie Shanks has experience designing optics for photovoltaic applications and is working on using novel materials for concentrator photovoltaics and windows; Dr Sarah Fearn, a research officer for Imperial College's Department of Material, manages the surface analysis laboratory; and Victoria Oakes will share her practical expertise in the conservation of ceramics, glass, enamels and wax. The team is completed by data expert Jamie Kaye.