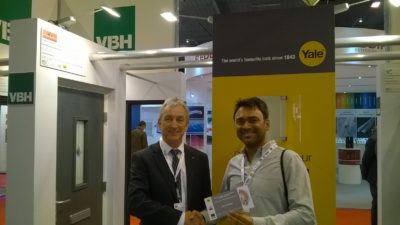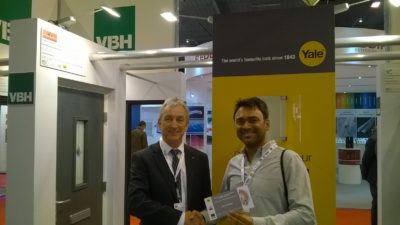 Two charities have benefited from one kind gesture, made by Everglade Window's Jayesh Patel and supported by hardware specialists, VBH and Yale.
The FIT Show 2016 saw VBH launch the Platinum TS007 3 star cylinder from Yale, featuring a large Yale Platinum display on its stand that included a 'Find the Key' competition. Jayesh took part and was the lucky winner of a £500 cash prize, which he opted to donate to a worthy cause.
VBH and Yale both matched his £500 donation and Jayesh split the total £1,500 between the Great Ormond Street Hospital (GOSH) for children, and the Katie Piper Foundation for its 'Inner Beauty Embraced' fund, in honour of the amazing Tulsi Vagjiani.
Tulsi lost both parents and a sibling in a plane crash at the age of 10 and was badly injured herself, having to overcome both emotional and physical scars.
Gary Gleeson of VBH said: "When our MD, Peter Rowlands, presented Jayesh with his winning ticket, Jayesh said immediately that he would be giving the £500 to charity. Both VBH and Yale were delighted to be able to contribute towards the causes that he chose. It was an unexpected bonus to our appearance at FIT and we wish him well with any future fund raising." 
More on GOSH and the Katie Piper Foundation can be found at http://www.gosh.nhs.uk/home and http://everydayhero.co.uk/event/innerbeautyembracedkpfoundation respectively.