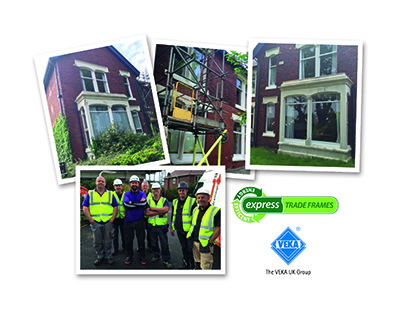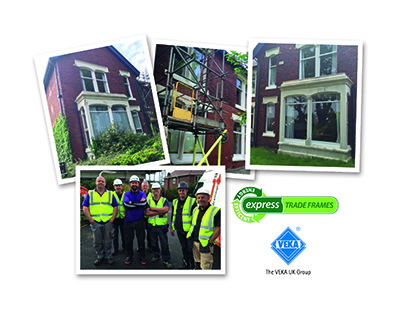 Fleetwood-based Veka fabricator, Express Trade Frames, came to the aid of the BBC's DIY SOS Team recently, for the programme's Children in Need 'Big Build'.
The show's presenter, Nick Knowles, had called in the support of trades people throughout the area to transform a 'run-down and tired' Blackpool-based young carers' centre.
Scott Law, MD of Express Trade Frames, explained: "Apparently, this project is one of the most ambitious that the DIY SOS crew have ever taken on, due to the scale and disrepair of the building. We were absolutely thrilled to be able to help with such a valuable enterprise.
"We actually came to be involved in the project via Facebook, where we read that the original window supplier had pulled out and they required a company to step in at short notice.
"The property, Blenheim House, is owned by a charity called Blackpool Carers Centre, which receives funding from BBC Children in Need to provide respite and support for more than 100 young people with caring responsibilities.
"We were keen to help, and – as a Veka fabricator – we knew that our windows would be able to meet all the safety and security requirements of the project, and we were confident that we'd be able to deliver them to the site with minimal lead time.
"We used Veka's industry leading fully sculptured profile to manufacture 22 casements plus four vertical sliders, which would replace the building's neglected wooden windows, making the property warmer, safer, more secure, and more energy efficient. Of course, they also happen to look fantastic!
"Time is always 'of the essence' on the programme and we were able to arrange eight of our trusted, local installers to fit the windows in just one day for them!"
MD of The Veka UK Group, Dave Jones, congratulated Scott and the team on their hard work: "It's great to see local businesses come together as a community and support voluntary projects like this. The programme made for fantastic viewing, and it makes us very proud to see Approved Veka Fabricators like Express Trade Frames contributing to such valuable causes."