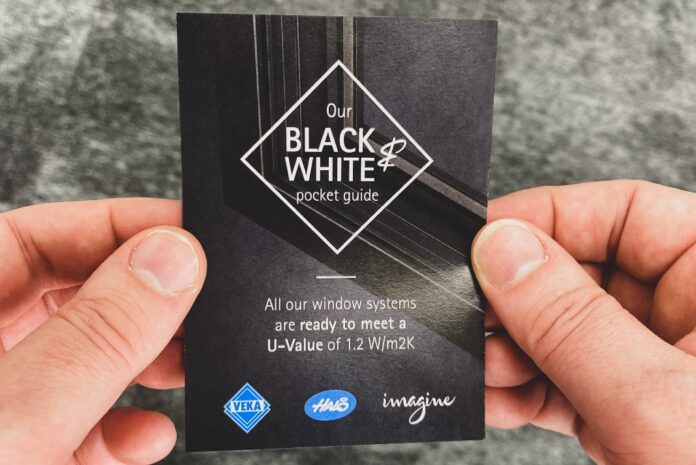 Veka has added a new guide to showcase how all of its window systems can meet a U-value of 1.2 W/m²K or lower. The clear and concise guide follows the ongoing package of support that Veka has been offering its customers since January.
Amid a climate of over-inflated claims, Veka's representatives have stated that transparency and accurate information is key to navigating the changes to building regulations coming in to force on 15 June. Veka has always prided itself on being transparent and providing accurate real-time information, its representative said, adding that the specifications in this new guide are fully reinforced and realistic to fabricate. There are no grey areas or hidden small print, Veka claims, and the information applies to both light and dark colours.
The guide has been produced in two simple formats. Visitors to the Fit Show 2022 can pick up a handy pocket guide. A full guide showing drawings of chambers and reinforcement can be downloaded from Veka's website.
Veka is asking fabricators and installers to make sure they 'get the true facts' when it comes to the U-values required for new-build dwellings. Paul Kennington, Veka's technical director, has been holding individual digital workshops to provide the latest support and guidance. All Veka customers and Independent Network installers have free access to Veka's exclusive specification software WinDoPlan.
Paul said: "Our comprehensive guide shows very clearly how all our window systems can meet a U-value of 1.2. We've based all our calculations on the worst-case scenario for achieving low U-values – dark colours and fully reinforced, so everything you see can be realistically made and installed. That's important because some systems companies are making misleading claims about low U-values, that are loaded with impractical small print.
"Speak with your systems house and ensure they have the documentation ready and prepared so that you can declare U-values. Make sure all the small print is read – that the claim can be substantiated, that it's based on the standard window or the correct configuration of window that's allowable for the calculation within the building regulations come June. If you hear a U-value that's too good to be true, it probably is!"
When it comes to U-Values for doors, Veka is committed to guiding fabricators through projects on an individual basis, due to the hundreds of specification options possible. Pick up a pocket specification guide at Veka's Stand K21 at Fit Show 2022, or download from veka.co.uk.