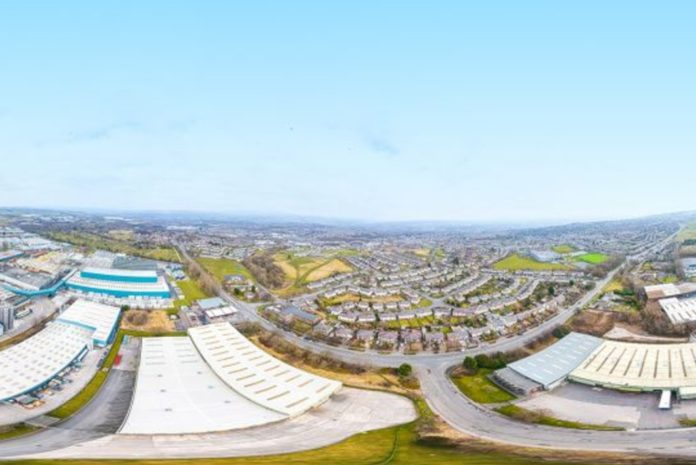 Veka has begun offering fabricators virtual tours of its huge site in Burnley, Lancashire. Visitors can tour its new lamination building, from anywhere in the world. The online tour is accessible through a password-protected link on Veka's website, which contains hotspots and information zones providing behind-the-scenes information about the company.
The site covers 400,000ft2 and spans two postcodes. The business employs 350 people at the site, and produces over 30m metres of profile every year. The new virtual tour, which works similarly to Google street view, allows customers to 'walk through' Veka from the comfort of their own home or office.
The virtual tour has been developed as a response to customer feedback, which highlighted the consumer value of seeing the impressive plant and the sheer scale of Veka's operation. Mirroring a personal tour, the virtual experience follows the flow of the manufacturing process, from the exclusive mix right through being loaded on to the fleet.
"The pandemic has meant that we have had to embrace all things digital, which has given us new opportunities to bring value to our customers," said Dawn Stockell, Veka's marketing director. "The scale of our factory is often something that surprises people and we have been looking at a way we can connect our customers to the Veka experience without the need for face-to-face contact, or when time and distance is an issue. Although we prefer to welcome our visitors with a brew and biscuits, the quality of the virtual tour provides the next best thing."
The online experience guides visitors from the mixing plant to the testing lab, and then moves onto the extrusion floor which houses 32 lines extruding 100 tonnes of profile each day. The lamination building is one of the newest areas on the Veka site; it has only been fully operational in 2021, and was created to respond to the the growing demand for coloured windows and doors. The tour concludes with an insight into the packaging of the product and a glimpse into the High Bay, which can perform up to 120 picks per hour.
The virtual tour doesn't stop at the factory, it also provides an insight in to life at Veka, from the conference room facilities to the offices. Find out more at vekauk.com/trade.