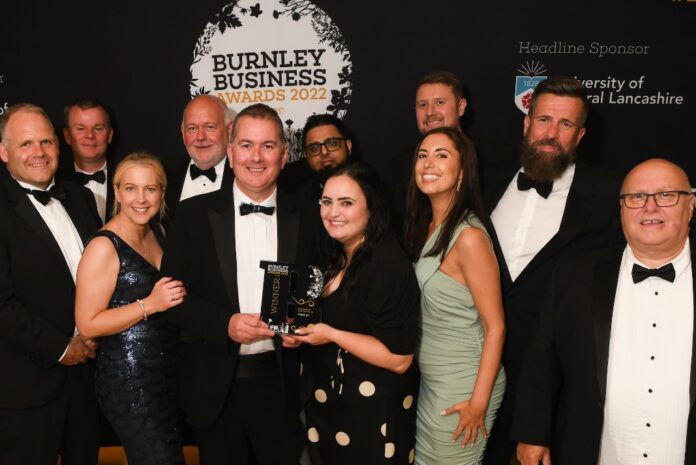 Veka has been recognised for the third time as 'Large Business of the Year' as part of the Burnley Business Awards. The award was presented on 30 June at a ceremony held at Towneley Hall. Veka is a major Burnley employer and is marketed as the world's largest PVC-U systems manufacturer.
Judges of the 2022 Burnley Business Awards reported being impressed by Veka's strategic approach to business during and after a pandemic as well as its ongoing commitment to its people. A spokesperson of the awards scheme said: "Veka stood out for having revolutionised its approach to its people over the last 18 months, with an attractive employee package. The business also demonstrated innovative projects to diversify its product range into new sectors and a commitment to the green agenda."
During the pandemic, Veka forged strategic partnerships which allowed it to continue to be a reliable source of supply for its customers, despite raw material shortages and a surge in demand, its representatives said. Veka's leadership team recognises that its resilience and success is due to the hard work and determination of its people. Because of this, the business has implemented a long-term strategy dedicated to the retention, reward and recognition of every one of its 400-strong workforce.
Neil Evans, Veka's managing director and also chair of Burnley Bondholders, said: "Although we are a large business, we retain the values of a small, family-run company, and we are extremely proud of the town where we've grown up. We're quite a humble business and we find it hard to blow our own trumpet but deep down we believe that we're an asset to Burnley and the town's manufacturing legacy.
"Our business is built on a heritage of trust, efficiency and commitment. Not only do we manufacture a product of exceptional quality and durability but we also do this responsibly, taking care of the environment and our people.
"Still a family-owned business, our ethos extends to the support of our local economy and those less fortunate. We extend our hand to local schools, charities and organisations to help create a better every day for everyone in Burnley."
The awards ceremony was arranged by Burnley Council. As part of the same awards scheme, Veka was nominated in the 'Employer of the Year' and 'Manufacturing Excellence' categories.