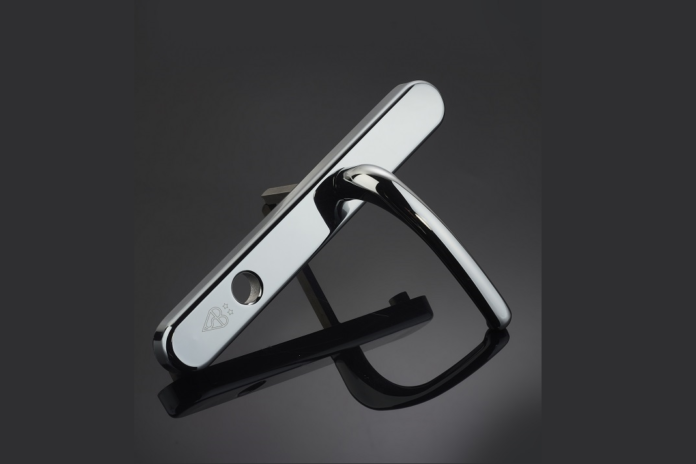 ERA has launched its new Berwick High Security 2* door handle. The handle has been designed to provide fabricators and installers with a handle that resists unwanted attacks. It has been independently tested and certified in accordance with TS 007-1: 2014 +A2 Corr 2 and is compatible with all euro profile cylinders.
Featuring a sculptured backplate that discourages unwanted attention from mole grips, it contains a hidden strengthening plate which helps prevent the removal of the external handle. The handle is available in both 44mm and 70mm versions to accommodate a wide variety of PVC-U and composite door profiles and includes high-strength security M6 screws.
The fully sprung solid handle provides a consistent 90° lever return, whilst the ergonomic lever and low-friction nylon bush provide smooth operating action. Designed to match more than 200 hardware products within the Fab and  Fix portfolio, the handle is available in finishes that include Hardex Chrome, Hardex Graphite and Antique Black. It is also supplied with colour-matched screw heads .
Sarah Knight, product manager for decorative hardware at ERA, said: "The launch of our new Berwick High Security 2* door handle demonstrates our continued commitment to ensuring we provide our fabrication and installation partners with certified solutions that meet the latest security and performance standards, whilst also delivering on visual appeal and durability." The handle has undergone thorough independent testing to TS 007 2* and PAS 24.
When used in conjunction with the ERA 1* anti-bump cylinder, the new handle meets the recommended TS 007 3* security level to defend against an opportunist burglar. Awarded the Secured By Design police-preferred specification, the handle is part of the ERA Total Security Guaranteed hardware range, which promises consumers a £5,000 guarantee. Durability tested in excess of 200,000 cycles, the Berwick also meets the requirements of BS EN 1670:2007 Grade 5 and is supplied with a 10-year mechanical and surface finish guarantee.