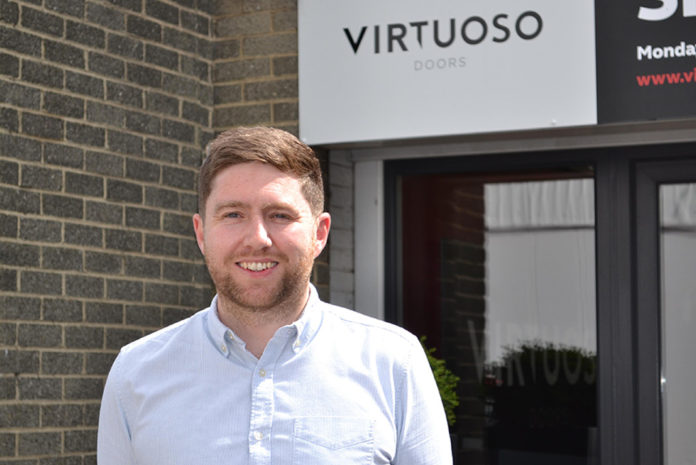 Virtuoso Doors says that it has laid the foundations for a strong 2019 with the announcement that it is on target to achieve year on year growth of over 50%, making 2018 the best year ever in the firm's 37-year history.
Virtuoso Doors' record streak has seen production rates accelerate during the last 12 months – all culminating in the company turning in a record-breaking month in October where sales were more than double those of October 2017.
Tony Craggs, managing director of Virtuoso Doors, explained: "2018 has been a historic year for the business and we're incredibly proud of what we've accomplished. Our record-breaking month eclipsed every single other month in 37 years of trading – it's a genuine highlight for us because it shows our customers just what we're capable of. We've developed a winning package for customers, which is built on innovative products and incredible support, and our impressive results prove that it's delivering tangible results.
"I'm really proud of our achievements, particularly when you consider that we've consistently maintained our industry-leading OTIF record of more than 99% as well. We are meticulous about quality with every single door being manufactured to exacting standards and we will always strive to achieve the highest levels of craftsmanship and service."
Virtuoso Doors introduced a string of developments throughout 2018 starting with a rebrand and the launch of a marketing support programme.
According to Virtuoso, the cornerstone of its growth however is new product development and the firm has credited much of its recent success to Virtu-AL – the aluminium textured, non-woodgrain finish composite door – and its newly launched aluminium outer frame. Virtuoso was the UK's first composite door manufacturer to create an aluminium alternative composite door and the first to offer an aluminium frame for all of its composite doors.
"Virtu-AL has been a runaway success for us and the new aluminium frame complements it perfectly," Tony added. "These two products give installers a vital point of difference to stand out from the competition and they have both contributed to our terrific success this year. We're not content to stand still though and there will be plenty more innovations to come from Virtuoso in 2019 – it's going to be another big year for us!"