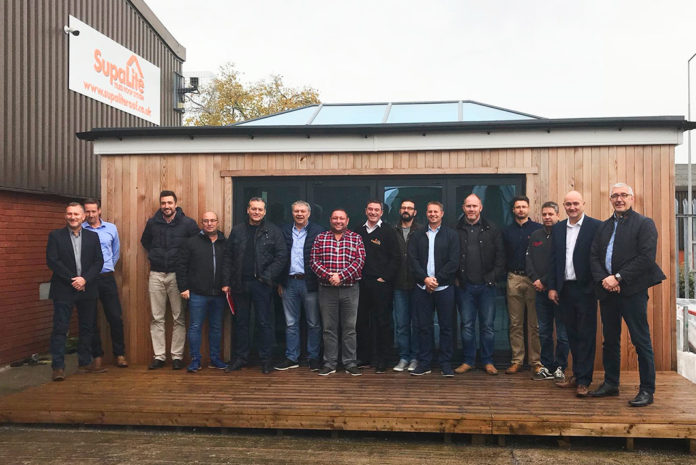 SupaLite, the manufacturer behind the SupaLite tiled roof system, has welcomed customers from across the country to Preston for its annual fabricator conference.
Hosted by SupaLite's new MD, Steve Hacking, the conference recapped on what is reported to have been a highly-successful year for both the business and its trade partner network. A number of new developments were also unveiled as SupaLite prepares for 2019.
Firstly, SupaLite launched its new-look 'Registered Fabricator Scheme', now endorsed and fully-supported by Corgi Fenestration. Priced at £200 a year, the new and improved scheme is designed to ensure that all fabricators are working to the same high standards and is also said to deliver a competitive edge for customers.
SupaLite also launched its new 'Registered Installer Scheme' – which also operates in conjunction with Corgi Fenestration. Offering the same benefits of Corgi Fenestration registration, the installer scheme aims to promote the best SupaLite installers across the country and provides a full range of support from free sales leads to the option of SupaLite micro websites. Installers will be able to notify their work to Corgi Fenestration via Supalite's online portal saving the need for any double entry.
Along with providing full registration with Corgi Fenestration, the SupaLite scheme is unique in providing building regulations approval.
Customers will now be able to submit applications, supporting documents and photography via SupaLite's online portal – a process designed to help customers save both time and money.
Steve Hacking commented: "The last 12 months have been massive for SupaLite and with the plans we have in place, it looks like 2019 will be much of the same. This is our third fabricator conference and it's been fantastic to share all our important news and celebrate the successes of our valued trade partners.
"It's great to finally break cover with our new Registered Fabricator and Installer Schemes which are already generating a fantastic response. This is the result of months of hard work between SupaLite and Corgi Fenestration to deliver two schemes which really adds value to our customers and their businesses.
"The streamlining of Building Regs approval with our online portal just makes it an absolute no-brainer to fabricate and install SupaLite tiled roof systems. A big thank you to all our fabrication partners for taking time out to travel up and join us in Preston."
The event also introduced a number of new products including the official launch of the flat roof orangery and the brand-new Sky Vista roof, a new hybrid roof system combining both solid and glazed elements.
To finish off the event, SupaLite crowned its fabricator of the year for 2018, Stafford uPVC Windows.