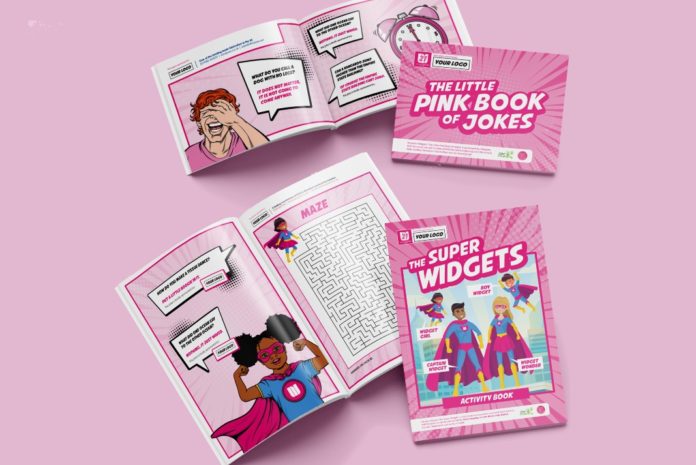 Continuing its 21st-birthday-year celebrations, Window Widgets has launched a fun charity campaign: it is creating a Little Pink Book of Jokes. The business is inviting glass and glazing industry professionals to submit jokes for publication in the book, which will be sold to raise money for GM Fundraising – the industry charity that raises funds for Hope House Children's Hospices, supporting children with life limiting conditions and their families – and 'We Mind and Kelly Matters', which raises awareness of mental health issues and provides bereavement support.
To join the fun, email your jokes to jokes@windowwidgets.co.uk, visit www.windowwidgets.co.uk/widgetscomedy or follow the social media hashtag #WidgetsComedy. The goal is to raise £21,000 for the two charities throughout the business' birthday year.
In addition to the main publication, there will be a separate children's activity and joke book available, where new Window Widgets superhero brand icons will be introduced. These will be distributed to local schools and can be requested for other children and schools across the UK. Both books will be published and available later in the year.
Jo Trotman, Window Widgets' marketing manager, said: "The Little Pink Book of Jokes is our way of not only celebrating our 21st business anniversary but also putting something back into the industry and hopefully make people smile too, especially after a particularly challenging 15 months for everyone. The aim is to have a little fun on the way, share our humour and raise much needed funds for two very worthy charities. So please support them and us with this distinctly pink and fun-led campaign."
Keep up to date with the latest content on social media (@windowwidgets) using #WidgetsComedy. For further information, visit www.windowwidgets.co.uk/21st-birthday. For sponsorship opportunities, email jo@windowwidgets.co.uk.